1935 Ford V8 Speedster Special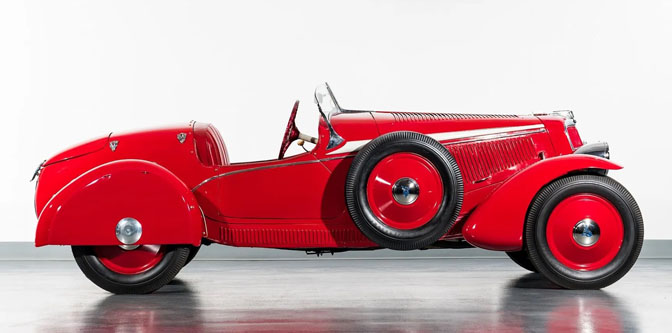 At first glance this car looks like some sort of skunkworks project hatched up by Edsel Ford and E.T. Gregorie in a dark corner of the Ford factory, most likely after Henry went home at night: A 1930's boattail speedster with all the European racer influences of the era: A frameless V windshield, cut down doors, heavily-louvered hood, and those cool rear wheel enclosures and wire wheel covers. Truth be told, this crazy car is mix of an Argentinean-built '35 Ford (Flathead-powered of course), partial coachwork by prewar German car maker Adler, combined with some South American craftiness:
"Previously believed to be a creation of the Italian coachbuilder Carrozzeria Viotti, further research reveals what is perhaps an even more surprising genesis for this machine: Built on a 1935 Ford Model 48 chassis, it artfully incorporates the bodywork from an Adler Trumpf Junior Sport. Produced by Adler from 1935–1937, the Trumpf Junior Sport was the roadster variant of the marque's small, front-wheel-drive car, a layout pioneered by German marques prior to World War II. Despite being designed for a front-wheel drive platform, the Sport roadster's bodywork has been cleverly modified and seamlessly mated to the rear-wheel drive Ford chassis. The car was reportedly discovered in Argentina, where it is believed to have been created, in the 1960s and subsequently imported to the United States."
I don't know if I'd put my own cash down for anywhere near the auction company's low estimate of $200,000, but I'd sure like to see this baby ripping it up at The Race of Gentleman or some similar sporting event.
More details here.
11

Comments on the H.A.M.B.