The 1963 Ford Galaxie LightWeight Thread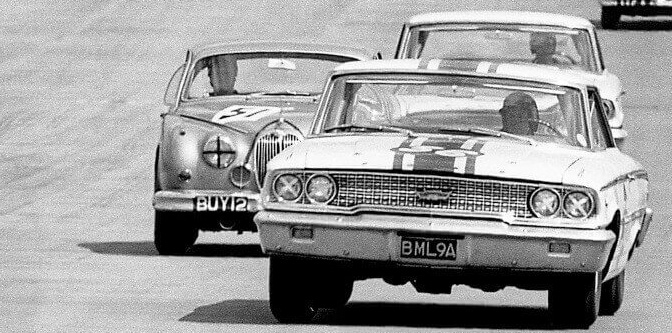 In the hazy depths of the late 1950s and the tumultuous dawn of the 1960s, Chevrolet was aching for a slice of the international racing pie. But they were failing with all the grace of a drunkard stumbling through a carnival funhouse. The Corvette, their supposed racing champion, was like a heavyweight boxer trying to tap dance – too damn heavy, too damn undercooked to tango with the likes of Ferrari, Porsche, and Jaguar on the performance stage.
Now, on the other side of the pit, Ford was cooking up a whole different recipe for success. Picture this: the British Saloon Car Championships, a racing league so intoxicatingly thrilling that it could give 1980s NASCAR a run for its money. These weren't your typical glossy European sports cars; these were regular ol' cars, tuned and juiced to sprint like gazelles on Grand Prix circuits, all in the name of luring spectators into the clutches of their local dealerships.
In the land of "big" saloon cars, there reigned Class D, and perched on its throne was none other than the Jaguar MKII – A 3,000-pound sedan with brakes that could stop time, a suspension setup that had seen more tracks than a vinyl record, and a 3.8L straight-six engine that belted out over 200 horses when dressed for the racetrack. In the 1960s, these numbers were gold standards, and American sedans could only dream of being in the same race. Yet, the power-to-weight ratios were as inviting as a neon sign in the Vegas desert.
So, Ford looked at this spectacle and, in their own unique lingo, thought, "Awweeee yeah, there's my bitch."
The Ford Total Performance crew dialed up Saloon Car Champion John Willment, and after some sweet-talking, he snagged a 1963 Galaxy 500 that had been massaged into racing shape by the wizards at Hillman-Moody. These "r-code" Galaxies clocked in at around 3,500 pounds and packed a dual-quad 427 engine, churning out a monstrous 425 horses or so.
Success was almost immediate. Drivers such as Dan Gurney, Jack Sears, Bobby Olthoff, Paul Hawkins, and John Willment dominated the class from day one. Their only slip-ups occurred when the brakes couldn't handle the heat on a tight course or when the races went long – rare occasions in the wild world of the Saloon Car Championship.
Pretty rad, right? Even cooler, this relationship with Ford, Holman-Moody, and British teams likes Sears and Willment directly lead to a very famous British car powered by a Ford motor – the AC Cobra. In turn, the success of this formula lead to the only globally successful sports car America has ever produced – the Ford GT.
But what's amazing to me, and something you don't hear about all that much, is that the 1963 Ford Galaxie 500 was the first American made car (and some would say the only 100% American made car) to ever have success on European GP circuits.
Given that, I think we need more Galaxies in our lives. Obviously, the real r-code cars bring astronomical money at auction these days. I think the last one brought over $1-million in 2016… But clones can be cheap and just as fun. All you need is rusty '63 Galaxie, some fiberglass panels, and some dough for a wild 427.
I've been thinking about this a lot recently fellas and need more inspiration. So, post your vintage images of r-code and r-code inspired Galaxies here. I'll start:
42

Comments on the H.A.M.B.