Modified Roadster Madness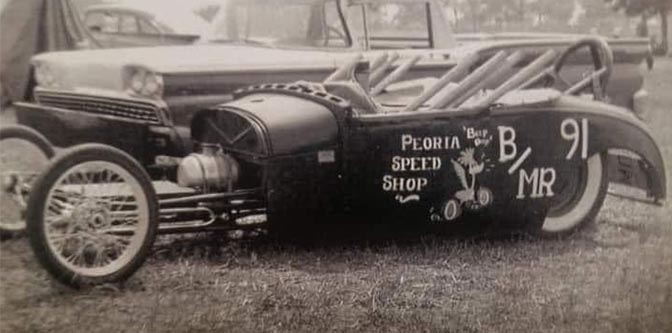 Hot rodders love nothing more than pushing boundaries. And when it comes to drag racing, that mindset escalates to the extreme. Earlier this week, I was thinking about how often creative interpretations of the rulebook resulted in some of our hobby's wildest cars. Although I wasn't around during the Golden Age of drag racing, I can't help but think that a stroll around the pits on a Saturday afternoon would have made the imagination run wild.
Naturally, that brings us to this week's subject. What we have is a B/Modified Roadster campaigned by the Peoria Speed Shop team back in the early 1960s. As soon as I saw it, my curiosity kicked in and my mind started putting the pieces together: short-wheelbase slingshot, cut-down '28-'29 Model A Sport Coupe body, Buick nailhead, wire wheels with Harley-Davidson hubs, steelies, whitewall slicks—it's so good.
The more I studied it, the more I wanted to know about its history. At this point, Chuck Jones' Road Runner character was already more than 10 years old and—if this car is any indication—already adopted by hot rodders across the country. That left me with one last clue: Peoria Speed Shop itself.
With that, I started searching. My digging led me to a map of Peoria, but no hints of where the business once stood. Undeterred, I found another longstanding speed shop and decided to give them a call.
I dialed the number for Winner's Circle Speed & Custom, who have been around since 1970.
"Winner's Circle, how can I help you?" said the man on the other end.
"I'm researching a piece of Peoria hot rod history," I said, "and I was hoping you could point me in the right direction."
"Old hot rods? That's would probably Bob."
After a quick rock music interlude, Bob picked up the phone. I asked if he had ever heard of Peoria Speed Shop. He said it may have been tied to a muffler shop near East Peoria called Naramore's, but he couldn't say for sure. I thanked him for his time, and he wished me luck with my search.
So, with that, I present you with everything I know about this wild Modified Roadster. Even if its story is lost to time, it certainly deserves a second look.
—Joey Ukrop  
Photo from what_it_meant_back_then on Instagram 
10

Comments on the H.A.M.B.