Over the Hurdle
Last month, I stood in my driveway at the end of a little cul-de-sac in San Francisco. It was a Sunday afternoon, and things were quiet. In front of me sat a 1932 Ford chassis—mostly complete. It had a dropped axle, filled '32 grille shell, high-riding headlights and a quickchange. There were wide whites front and rear, and steelies and beanie hubcaps too. My attention, however, was on the engine: a flathead Ford V8.
As I looked at it, I thought of all it had been through since I picked it up on a gray California morning years ago. Stuck. Soaked. Pulled apart. Pulled from the car. Placed in the back of a pickup. Used as ballast on a winter trip to Tahoe. Stripped for parts. Unstuck. Cleaned. Re-gasketed. Re-assembled. Primed. Painted. Outfitted with a 2×2 Weiand manifold, two Strombergs and a PowerGen. Adorned with chrome acorn covers, cloth-wrapped wiring and bologna slicer stacks. Homemade headers helped complete the package.
By this point, I had gotten it to turn over. I believed in it. I knew when I hit that starter button, something was going to happen. With friends at the ready and fire extinguisher within reach, I held down the metal button. VRARARARAH. VRARARAHR. The engine turned. VRARARARAH. VRARARAHRRR bladdabummm bladdaummmmm.
"Yesss!" I shouted.
VRARARARAH bladdabummm bladabummmm bladdabumm bladdummm!
The engine jumped to life after its long slumber, sucking air through the carbs and blasting hot exhaust gas out of the pipes. It wanted to live! The sound bounced off the buildings; we cheered louder than ever. This was it!
Or so we thought.
As the engine ran, I realized something wasn't right. There was a squealing (or was it a humming? Or a knocking?) coming from the front pulley. My heart sank.
I couldn't shake the feeling. What was supposed to be the best day of the build soon went downhill. The possibilities of what could have gone wrong were endless. I felt more defeated than ever.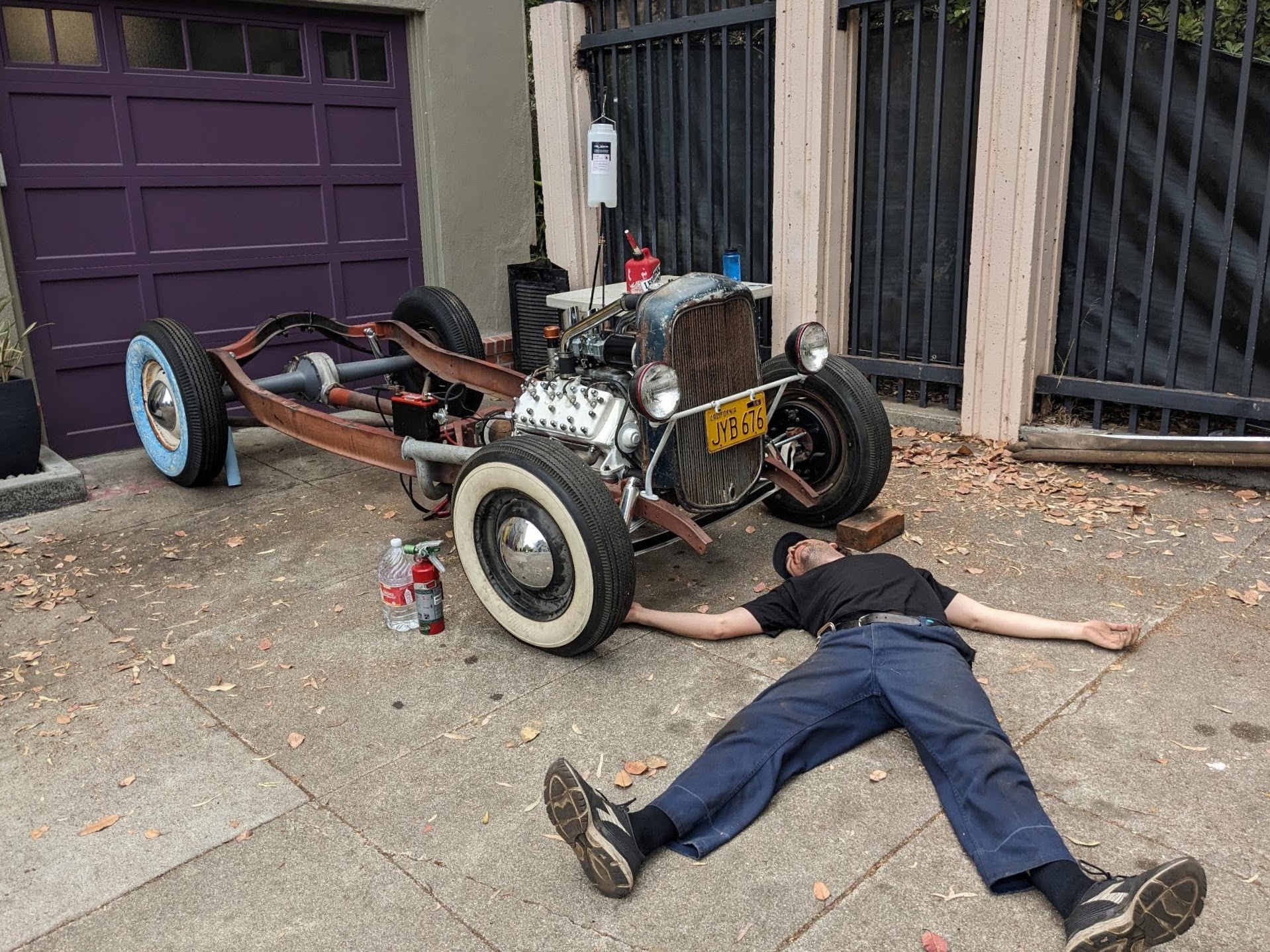 ***
Just like in years past, I've been on the road for most of the summer. Last week, I finally got back into town and started making plans. On Monday night, I met up with my friend Yama for dinner. After catching up on all things car, bike and life, we started talking about creative projects.
"You know," I said as we walked down Valencia Street, "I'd really like to make a short video explaining what's been happening with my car."
"You should do it!" he said.
***
As soon as I got home, I set up the shot and got the camera rolling. It's a little something different from my usual Jalopy Journal article, but I figured there's never been a better time to step out of my comfort zone.
—Joey Ukrop
A good fortune, a great flathead & help from the best folks!
25

Comments on the H.A.M.B.