The Dean Jeffries GT/109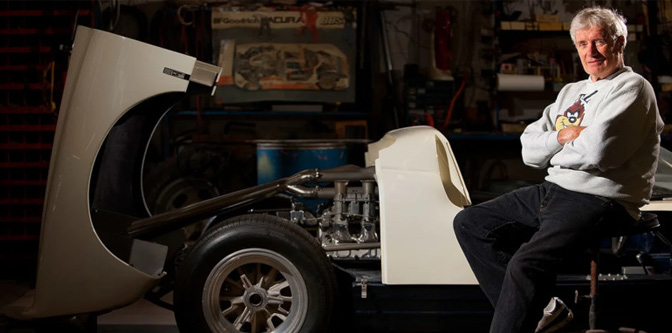 In 2004, I drove my rental car to Dean Jeffries' shop and sat in his parking lot looking for the nerve to introduce myself. It was a straight up cold call and I didn't know if I had it in me. As I sat there, figuring my next move, the bay door I parked in front of opened and Dean looked out curiously.
I remember thinking, "Oh shit man. What have I done?"
But Dean was nothing but welcoming… Hell, he almost seemed excited that a kid from Texas was there to meet him. For the next two hours, I was given a complete shop tour as well as a straight dissertation on life from the comforts of his office side chair. And if he could found his projector, I'm certain I would have gotten a slideshow as well.
During the shop tour, however, I noticed something low, wide, and slinky hidden under a cover. "What are you hiding under there?" I asked.
"My retirement," replied Dean as he threw the cover to the side. Under, was what I thought to be a replica of a Ford GT roadster.
It wasn't. The 1965 Ford GT roadster was one of five ever built and one of only two still in existence. It was built by Ford Advanced Vehicles in England, raced at Le Mans by Maurice Trintignant and Guy Ligier, and then finally, sent back to Shelby American for a refresh. Afterwards, Ford took the car and began using it as a test mule.
But in 1968, the car's useful lifespan was over and it was abandoned to a corner in a storage warehouse. Somewhat mysteriously, Dean heard about the car and asked his pal, Carroll Shelby, about it. Carroll then made some phone calls and before long, Dean was the owner of a very rare and very special race car.
"People give me a lot of lip for customizing the car. I didn't. All I really did was get the gaps consistent and the body panels straight. And, of course, it needed paint and I really wanted that front clamshell to have a little cleaner lines… and maybe a few other little things…"
I could tell Dean loved the GT. There were some incredibly significant cars in that shop and many that Dean had spent thousands of hours of hard labor on, but the GT was the car he spent the most time talking about. He ran his hand across it as he did – almost caressing it.
Of course, Dean never sold the car. When he passed, the GT was left to his son who then sold it to Dana Mecum of Mecum Auction fame. Dana had the car completely restored to its original Le Mans condition and livery. In 2020, it went on the auction block. The other remaining GT roadster (GT/108) had sold for over $7-million and everyone was pretty fired up to see what Dean's GT/109 would bring. The hammer went down at $10-million without meeting the reserve.
Ford GTs aren't exactly on topic around here. I get that. But here's the deal – Dean is probably my favorite custom guy of all time and the GT is probably my favorite race car of all time. Put the two together and you have something I can't really resist. I apologize for nothing.
41

Comments on the H.A.M.B.