The First Belly Tank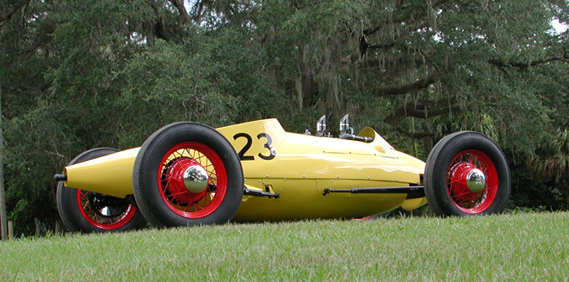 Before WWII, Bill Burke was active in the Southern California hot rod and racing scenes. Speed had grabbed Bill by throat and wasn't about to let go. Like many of us, he was a slave to all things fast and hopped up. So it makes sense that even while Bill was stationed in the South Pacific during the war, he couldn't keep his mind off of hot rods. Towards the end of his deployment, Bill noticed the graceful shape of a 165 gallon drop tank latched on to the wing of a P-51. His mind raced.
With the war over and Bill's ass planted firmly back in SoCal where it belonged, he began to build the race car that would change land speed racing forever. A set of model-T frame rails were set up with a '32 Ford axle out front and banjo out back. Both were sprung with '32 springs and the steering was directed by the popular Ross box. Power was handled by a '39 Ford v8 installed in front of the driver and backed by a '39 top loader. It was all pretty conventional stuff… Until it was time to install the body.
The 165 gallon drop tank went over and around the frame rails nicely with a little slicing and dicing. A hole was cut for the driver, a bicycle seat was mounted on the torque tube, and the whole shebang was called done by 1946 – just in time for the 2nd meet at El Mirage. Four streamliners ran that day and Bill's speed of 131.00 mph was second only to the legendary Stuart Hilborn who ran 138.24 mph.
"I was scared… I sat real high in the car and had only goggles to protect me from wind, no windshield. I'll never forget… It was just shake, rattle, and go!!!" – Bill Burke.
We all know Hilborn was a tough guy to beat and Bill learned the hard way as he chased the "injection king" for the rest of the 1946 season at El Mirage. Although Bill ran a best of 137 mph, he was never able to secure a first place finish.
In the grand-scheme of things, however, it didn't matter. Bill's innovative idea of using a belly tank to cut the air changed the world. For the 1947 season a bunch of changes were made from lessons learned. One of those was the use of a larger drop tank that further aided in aerodynamics and allowed the driver to sit lower in the car. The era of the belly tank was full on…
To be honest, I'm not sure what happened to Bill's first tank. I'd guess that like so many other race cars, it was cut up and repurposed through the years. That, however, did not stop Geoffrey Hacker from taking on the daunting task recreating the significant piece for us all to enjoy. He teamed up with Ted Kempgens and Tom Bambard of Creative Motion Concepts (Dodge City, FL) and made it happen. It took a lot of time, passion, and plenty of calls to the man himself, Bill Burke, to make it happen… BUT, they did just that.
Enjoy the photos.
59

Comments on the H.A.M.B.