The Checkered Past of the Checker Model A
There was a time in New York City that if a cab was hailed, you could bet your bottom nickel it would be a Checker. Between the 1920s and the 80s, the Checker Automobile Company of Kalamazoo, Michigan was the ultimate city cab. Just before WWII, Checker introduced a bizarre new car called the 'Model A', released in late '39 as a 1940 model. On paper, it should have been a winner: A robust, reliable new Continental 'Red Seal' 6 motor, with a ground-up fresh redesign both inside the car and out… And that was the problem. Checker ended up designing one of the oddest cars I've ever seen, featuring bobbed cut-away front fenders, shield-shaped headlights with intricate surrounds, and a waterfall grille that made the front end of the car resemble a Medieval mask. The oddness continued to the rear half, which featured an option mini folding top in the 'Landaulet' version, which looks like someone took a power saw to the back window and then placed a cheap sun umbrella over the opening.  Much like the Pontiac Aztek decades later, I'm guessing Checker quickly realized how incredibly ugly this car was, because after the war it quietly disappeared.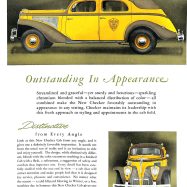 To see just how much the bizarrely styled Model stood out, watch this NYC footage from the 1940s, where you'll get some shots of the funky front and chopped up back halves of the car:
12

Comments on the H.A.M.B.