Rocketfire Shoebox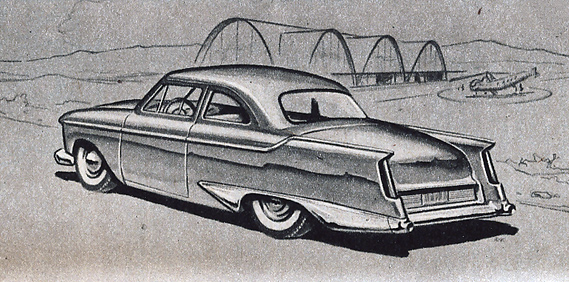 I spent a lot of time in Salina this weekend just sitting and thinking… Thinking about line, proportion, style, and what makes a custom work to my own sensibilities. Riding along in Lee Pratt's shoebox Ford, staring at El Jefe's Gary Howard built Cad, and just generally hanging out with the crew that I was with put my mind in a tailspin of sorts. It's hard to explain really, but there is something really interesting about matching a builder's personality to the cars they build.
Anyway, as my mind wondered and I became more and more frustrated with the matching game, I remembered an illustration that appeared in R&C sometime in the late 1950's or early 1960's. I looked and looked for that very magazine this morning and came up with nothing. Then, I browsed through my digital archive and found what I was looking for. I didn't have the article that it appeared in, but I did have the illustration. It was signed by a guy named R.F. "Rex" Reyes.
From what I've been able to find, Rex wasn't a car guy really. He was an industrial designer for a number of aircraft manufacturers and later in life gained fame in his field for rocket and missile design. He designed for speed and form just happened to follow. In any case, I'm guessing it was his background that interested R&C and their curiosity must have prompted them to see what they could get out of Rex.
The above illustration is what they got. To me, it's amazing. Here's a designer with little to no experience in the "custom world" and yet when he put pen to paper he came up with a car that would fit the scene like a glove. A shoebox Ford with an ever-so-slight section, '56 Chrysler rear quarters, sliced '57 Cad rear bumper, '55 Pontiac (I think?) side trim, Imperial headlight brows, etc… It's an incredibly radical custom, but it has such a simple shape. It's subtle… somehow… like a rocket.
And that would make sense, right? Rockets are what Rex knew and loved.
………….
Note: If anyone knows what issue of Rod & Custom this illustration came out of, I would love to hear from you.
………….
25

Comments on the H.A.M.B.