The Leadsled Spectacular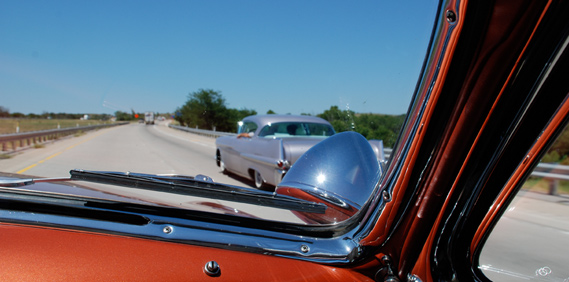 I attended my first Spectacular a number of years ago in Wichita, KS. Robert Rolling and I drove my '65 Buick Riviera up for the event and proceeded to have an absolute ball. We reveled in the fact that we were the young guys in a crowd of older gentlemen. Something about it made us feel like we were in on a secret that other folks our age weren't quite privy too. Rubbing elbows with guys like George Barris, Bill Hines, Lee Pratt, Gary Howard, and a whole lot of other custom legends just seemed to confirm the notion.
It's now close to a decade later and I just got back from my latest Spectacular held in Salinas, KS. I have been meaning to return to the event for years and was planning on it last year when a family deal got in the way. This year, there was no stopping me. If you were around this past Friday, you read about our adventurous trip up to Kansas. I failed, however, to give you a cast of characters and maybe that's where I should start. Our Texan caravan consisted of:
Steve Wertheimer. You all know Steve. He's the man behind the Continental Club as well as one of the forces behind the Lonestar Round Up. You might know him as "El Jefe." We all certainly do as he is the guy that makes sure we all stay in line and have a good time. He's also family and one of my best pals.
Gary Howard. Gary is undoubtedly one of the most laid back and easy going fellas you are ever going to meet. Those are, of course, great qualities in any road trip partner… but it doesn't stop there. Gary is also one of the most accomplished traditional customizers in the world and my personal favorite stylist. He's a legend and one hell of a guy.
Lee Pratt. Another legend… "The Gentleman" is low key, quiet and reserved, smooth as silk, and a brilliant artist. He's the guy that adds class to our bunch and he does so in spades. After our trip this weekend, I've decided we need to hear much more from Lee here on The Jalopy Journal. He's got stories that don't end and I can't wait to tell them.
Reggie Hill. I've said it many times before, but Reggie is the best pure person I've ever met. He's a great friend and maybe one of the best road trip partners of all time. He's a hot rodder, hauls ass, and keeps us on pace. You couldn't get a better guy to lead the pack to and from Kansas.
Norm Jones. Norm is the Godfather of hot rodding in Austin, Texas. He's the guy we all hope to be when we grow up. He's also the guy that consistently makes us laugh and keep perspective on whatever we happen to be contemplating at the time. A pure car guy…
Me. I'm the young guy, lowest on the totem pole, and by far the least accomplished of any in the crew. Frankly, I was just happy to be holding the company that I was in. I look a long ways up to each of those guys listed above and can only hope that I learn a little from each. I think "honored" is the best word to describe my attitude all weekend.
And there ya have it… The Texas crew headed up on Thursday, back on Sunday, and had a whole lot of fun in between.
For us, it really started with the drags held on Friday night. Jerry Titus is a magician. He somehow talks the city of Salina, KS into handing over the keys to an old airstrip with little to no restrictions. With boundaries like that, you can only imagine what goes down… It's a "no rules" drag race with a single flag start and a double flag finish. Late model Camaros matched up against traditional roadsters. Full on race cars ran against bubble top customs. Limos full of passengers went against antiques with folks hanging out of rumble seats. It was pure pandemonium… and an absolute blast to watch.
Of course, Saturday is the main attraction for most. The Spectacular is, first and foremost, a custom show and the quality was pretty damned impressive. It was great seeing so many historically significant customs sitting along new builds as well as other cars I haven't seen since my earlier and more active KKOA days. I believe the final car count was somewhere over 1000, but other than the high numbers things haven't changed much with the KKOA and that's a damn good thing.
All that being said, I've finally concluded that I'm just not much of a car show guy. I just don't know what to do with myself once I've gotten a good look at all of the cars in attendance. This past Saturday I went back to our cars, sat in a lawn chair (ha!), enjoyed the fabulous weather, and took a long nap. I needed it for the night to come.
To be honest, I don't remember much of it. We went down to the host hotel bar and grabbed a table. While listening to the guy that used to lead the Poison Okies, a few of us managed to throw one too many down. Good times.
Of course, we paid for it this morning and the drive back to Texas wasn't an easy one. Maybe we aren't the young guys anymore…
Side notes:
– A special thanks to Roger Morrison for the tour of his private collection. You might notice a few pictures from the tour in this story. It was certainly a high point – His collection as well as his dedication to preservation was mighty impressive.
– Along with the images below, you can find more coverage on the HAMB, on my "from the road" blog, as well as a few videos from an experiment I was doing.
– Finally, I want to thank all of you fellas from the HAMB that were out there spreading the gospel. You all rule… and I'm sorry if I'm a little too shy to approach ya out of the blue.
Enjoy the photos:
56

Comments on the H.A.M.B.