Roll N Flat Beach Race in Italy!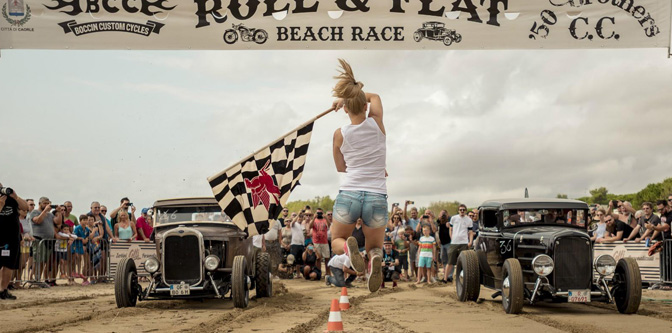 Last night my friend Pippo took me around downtown Milan in his 1959 Alfa Romeo Giulietta Spider, which has been modified to add a considerable amount of horsepower. This is his town; he grew up here, and seemingly knows every street, every cafe, every Milanese we pass. He took me to a set of circular roundabouts and proceeded to powerslide the little convertible within inches of the curb, yet remained in full control. Viva l'Italia!, indeed. Italians are gearheads, just like Americans, but their culture typically dictates Alfas and Vespas, rather than Chevys and Harleys. Or does it?
Take for example the Roll N Flat Beach race, which takes place every September on the beach of Caorle, near Venice, coming up on 9 years running. Organized by the 50 Brothers Car Club, the 1/8th mile beach race is open only to traditional-styled hot rods and motorcycles running period speed parts, and carries a very strong T.R.O.G. vibe, right down to the girl dropping the starting flag, racers wearing vintage helmets, and race announcements done in English. I wouldn't mind coming back to Italy for this one… See for yourself:
12

Comments on the H.A.M.B.