The Ayala '51 V1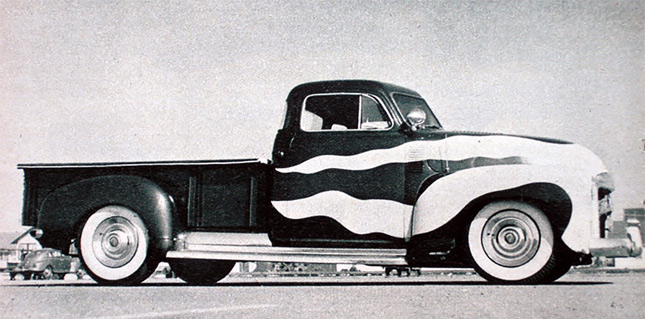 I'm head down writing a big feature slated to publish early on Wednesday, but have had a side bar running in my head all weekend. The Gil Ayala '51 GMC is a well recorded custom pickup simply due to the fact that the truck was built and rebuilt in so many different versions and because of that continuous care, it still exists today. But, my favorite version has always been the first…
A part of me loathes the custom "branded" grille, but another loves it for its uniqueness and purpose. And I don't know that a GM pickup has ever been chopped better. Add to that the merc taillights, the sculpted hood, the frenching, and the stance? There's a reason this truck has been around so long.
Still the calling card has always been those unique and sort of elementary flames. I love them… and despite all the amazing cars Gil built, those licks are the first thing I think about when I hear his name.
The 1953 issue of Rod & Custom Magazine that the truck was featured in mentions that it was painted a dark emerald green with light "sarasota" green flames. And I know a few poorly exposed color images of the truck exist somewhere, but this is one I would have loved to see in person.
21

Comments on the H.A.M.B.