A Day In The Life… Part II
You remember part one, right? My life is quite a bit different now. A lot has happened since then. I guess the biggest change is that I now have a son and my mornings are more euphoric and clear than they have ever been. Typically, I spend them in bed with my two kids and my wife and watch something like Spongebob or maybe Dora… It's still the only part of my day that I am not absolutely obsessing over cars.
By 8:30am, however, I'm typically dressed and out the door. I no longer have a suit job or a late model car. Instead, I drive to work in an old wagon and spend eight to twelve hours a day either writing about, talking about, or thinking about cars. I believe it was Lou Gehrig that once said he was the luckiest man on the face of the earth. Truly and honestly, I think I've got him beat. Sorry Lou.
This morning was a little different though. My wife and kids are on the road and have left me to my own devices. I've been missing them pretty badly, but today I managed to take advantage of the extra time. See, a whole gaggle of former Rodder's Journal feature cars from Austin are getting ready to head to Salinas, KS this weekend for one of the best custom shows on the planet. One of those cars is Steve Wertheimer's '57 Cadillac, but it's been in Houston for the last few weeks and Steve needed to go pick it up. I quickly volunteered and found myself in a little yellow wagon headed to Steve's place.
"Ordinary Average Guy" by Joe Walsh was playing on the radio as I pulled out of the driveway.
By noon, Steve and I arrived at Jim Jard's shop in Houston where the Cad has been sitting. Steve warned me about the atmosphere, but I wasn't quite prepared for what I saw – incredible vintage signs surrounded by even more incredible cars. The Eight Ball Corvette, the Devil Deuce, Bonneville record holders, etc… I think it's best if I just let the pictures do the talking.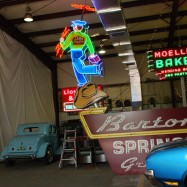 After a quick bite to eat, Steve and I were off again and headed back to Austin. Typical old car shit went down… Steve ran out of gas or got some bad gas or something… Hell, we don't know. But the problem fixed itself in time for us to meet a bunch of the guys from the Austin Speed Shop for BBQ. It's a special occasion of sorts – Mr. Kevin Lee and Tuck are in town to thrash on Kevin's latest a-coupe project. Tuck drove his Ranchero down from Minnesota, stopped in Kansas City to pick up Kevin and his vintage single axle trailer carrying the HAMMERED a-coupe, and then the two came on down to Austin. It was one hell of an adventure and they have some great stories to tell.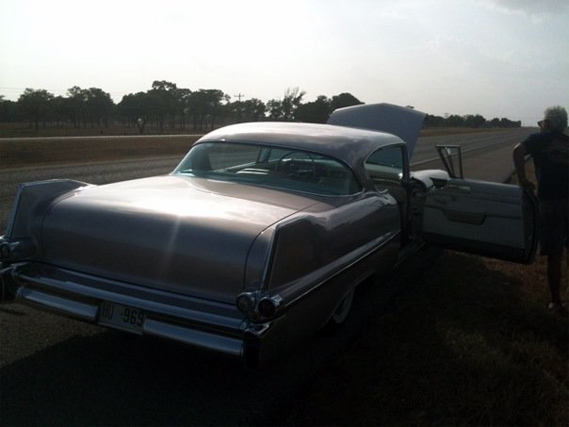 You just can't keep a good man down.
Anyway, after dinner we ran by the shop to watch the fellas attack Kevin's car. And that's really the only thing you can do to a car that looks so god damned sinister. It's got evil intentions fellas. Nothing good can come of it. Nothing. And that's why it's so right. Danger, danger.
Of course, the legendary Gary Howard also dropped off Doc Dan's Zephyr at the shop this morning. Dan has some big decisions to make on the chassis and called earlier in the day to ask my opinion. I studied the car for a solid hour and thought about stance, proportion, and line – all of which this car will have in spades. While Kevin's a-coupe is a murderer, this car is going to be simply seductive. Forget all of those instances where car guys use the word "art" to the point of cliche. This is art.
Exhausted from a long day of hot rodding, I finally decided to call it quits and head to the house around midnight. I went through the Austin Speed Shop office, chatted up Mr. Ford as he worked on getting his latest Hemi together, and then weeded my way through the Hustlers (Austin roller derby team) as they practiced their craft in the parking lot. Once in the wagon and on my way home, I remembered Joe Walsh, popped my iphone on to my amp, and cranked the sound once again to "Ordinary Average Guy." About half way through the song, my iPhone freaked out and skipped tracks to one of Presley's favorites – Dora.
Sorry Lou. Still got ya.
………..
74

Comments on the H.A.M.B.