Deals on Wheels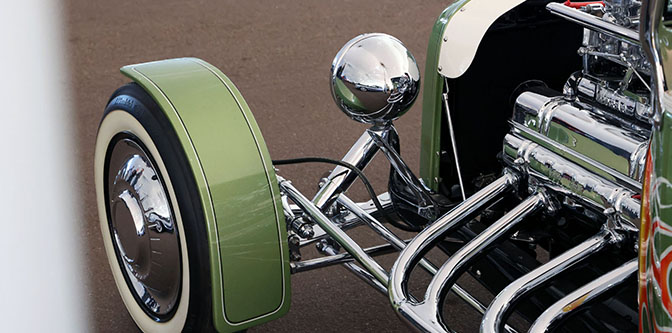 Growing up, Barrett-Jackson was a wintertime staple in the Ukrop household. I remember turning our chunky T.V. to channel 34 to catch the coverage from Westworld in Scottsdale. As an eight-year-old, I didn't think too much about the logistics of the thing. I just knew that cars of all kinds came from far and wide to cross a stage while a guy with a hammer talked really, really fast. Oh, and it all happened in a massive tent underneath the biggest American flag I'd ever seen.
Twenty-one years later, I found myself in that very same tent watching that very same scene unfold. I know a lot more now than I did then, but that didn't stop my heart from racing when the cars started rolling across the block.
"Fivina finvina fivania fifty thousand fifty fifty five sixty can I get sixty and sixty and sixty and sixty sixtyfiveseventy now eighty now eighty eighty five ninetyyyyyyyyy…you ownedit fora secondsir…ninetyfive five fiva…"
Bids climb. Buyers and dreamers jockey for position. Small drinks with big price tags spill from plastic cups as folks lean forward in folding chairs. Red, white and blue lights spin wildly whenever a high-dollar sale shakes the house. Whistling. Yelling. Crying. Handshakes. High-fives. Selfies. Barrett-Jackson breaks the fourth wall and invites you to get swept up in the whirlwind.
By the time I arrived at Westworld on Friday, the lion's share of the 1,800 cars had sold. The action in the tent was heating up, and it sure as hell wasn't showing any signs of stopping. When it was time to take a breather, I walked outside to sift through the sea of machines.
The week before Barrett-Jackson, one of my co-workers asked what car I was most looking forward to seeing. I thought for a moment, and then I recalled hearing that the "Trojan T" was up for grabs. Originally built by Harry Markiecki, the Nailhead-powered roadster made waves on both the local and national level when it hit the show circuit in the early 1960s. It was lost, found and then brought back to its former glory with research help from H.A.M.B. Moderator Mark Moriarity. "In a perfect world, I'd buy it, get it running and drive it back to San Francisco," I said.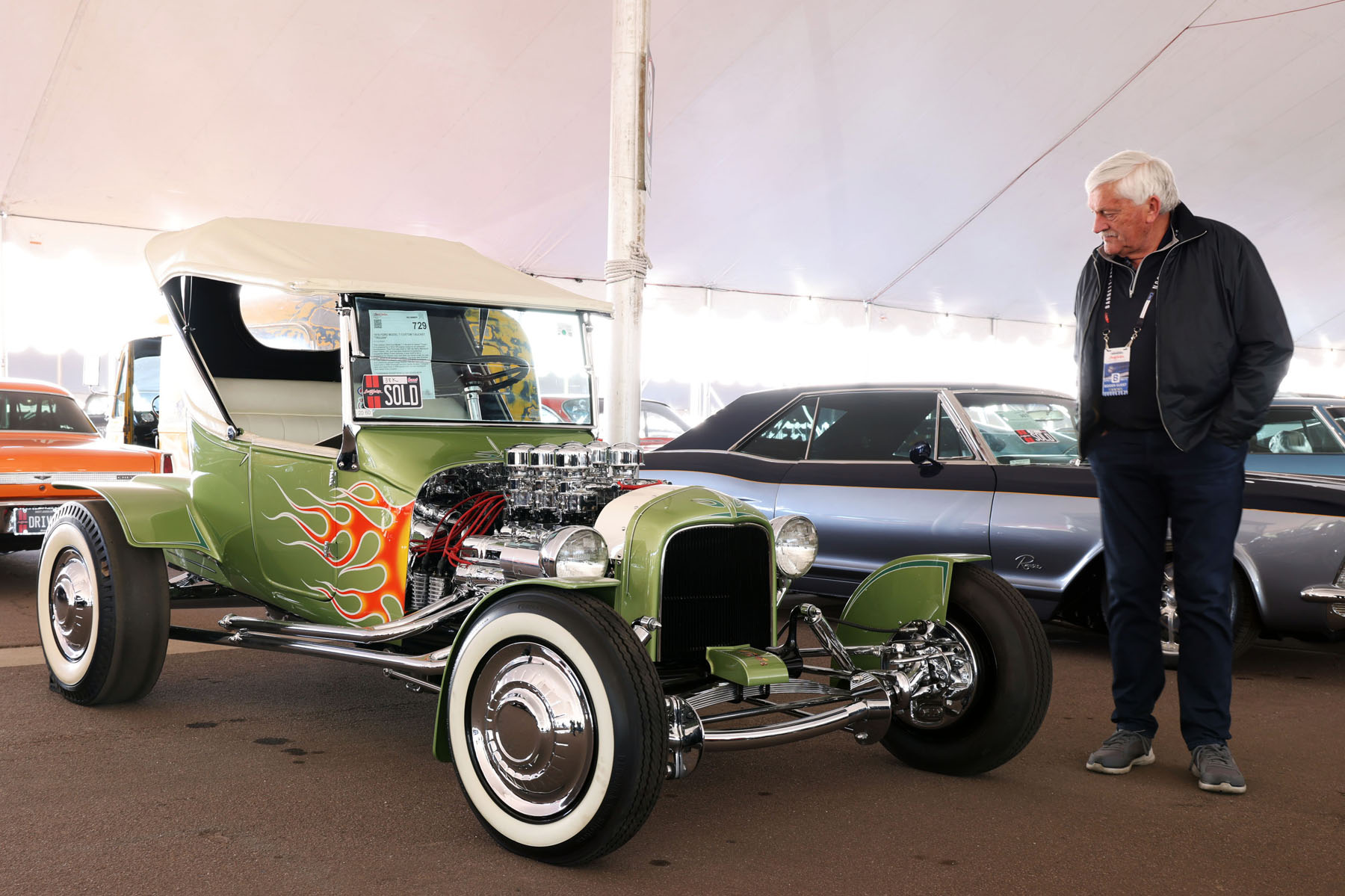 When I finally found it in one of the big-top tents, it was clear that someone had beat me to it. Regardless, I stood there in awe. The car had been masterfully restored: the paint, the chrome, the upholstery, practically everything. Top to bottom, front to back. I admired the six chrome 94s, the headers and the sculpted rear fins. And then I saw the SOLD sticker. The price? $38,000.
What? I couldn't believe it. It's no secret that these cars aren't cheap to build, let alone a fully finished show rod with history. Even though it's way out of my range, it's pretty spectacular that someone was able to buy it for such a low price.
Ultimately, the dollar amount didn't make much of a difference to me. Instead, I was glad that I got an up close and personal look at a piece of Midwestern hot rod history. No ropes, bidding or T.V. remote required.
—Joey Ukrop
 To view the Barrett-Jackson listing, click here
23

Comments on the H.A.M.B.