Satan's Chariot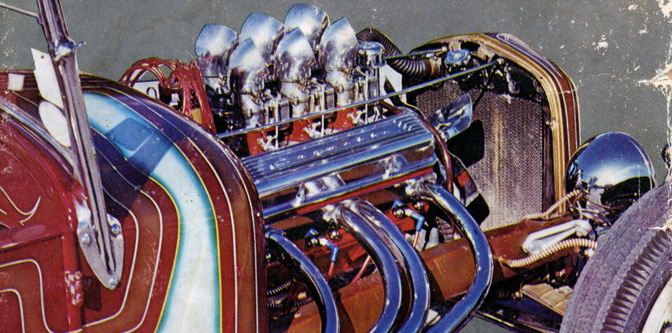 Coolest show car name… EVER… "Satan's Chariot" was a 1927 Ford roadster built and owned by Wayne Kleb in the early 1960's. He started with a 1934 Ford frame, threw the roadster body on, and then just sort of let the chips fall where they may so long as they were influenced by the cars Wayne saw in his favorite magazines of the time. The result is a pretty wild "show rod" that went through many a transformation.
The version you see here first was featured in Rodding & Re-styling in 1962. Believe it or not, this was the car's mildest appearance. The body was widened seven inches and channelled another eight. In consideration for head room, the windshield sanctions were just left alone and stand proudly like twin towers connected by glass.
The panel paint scheme fits right in as does the loud noises that must have exited the full race 302-inch small block Chevrolet that Wayne liberated from a Corvette and then spent a couple of month's salary on with the chrome plater.
Pretty wild, no? Shit would only get crazier…
After the photoshoot with Rodding & Re-styling, Wayne got busy with further customizing. The deuce grill shell was tossed in exchange for a custom formed shell featuring canted headlights, nerf bars were added, sculpting was completed around the '58 Chevrolet taillights, and the paint was redone in candy apple red with fogged gold highlights. Ohh… and the interior was done up to the nines with swivel seats.
At some point, Barris saw it, loved it (of course), and shot it. Those photos then ended up in the July, 1964 issue of Car Craft Magazine.
Not long after that feature, Wayne sold the car and it ended up in California with a blue paint job. It was seen again in Texas sometime in the 1980's, but has been missing ever since. Wayne's son sent an email years ago – he was on the hunt. And you know what? I think the likelihood of this one being found is pretty high.
In any regard, Wayne loved his little hot rod and took many photos himself over the years. I have a few of those in my archive and figured today was as good as any to share them:
18

Comments on the H.A.M.B.