The Hawaiian Custom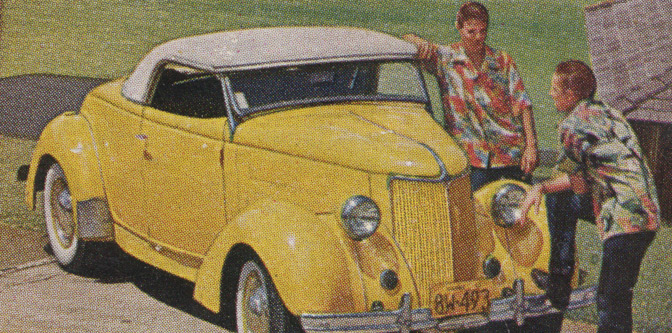 In early 1951, Gene Trindl visited Oahu with an excuse – he had business to do on the island. But as often happens in Hawaii, business took a backseat to pleasure. It all started when Gene found something in Honolulu that he never imagined he would ever find in such a remote locale – a custom car.
As luck would have it, Gene moonlighted as a photographer for Hop Up Magazine and quickly set up a photoshoot with Dale Barrett and his canary yellow 1936 Ford roadster. In my opinion, it's one of the best historical '36 roadsters ever featured.
The foundation of the car is the running board delete. This lead to a tasteful bob of the rear fenders and a continuous line between the '41 Ford front bumpers located both fore and aft. On top of this foundation sets radically louvered hood sides and hood along with a perfectly chopped soft top. And really, that's it man… That's all it needed.
The flathead, of course, is warmed over and the interior was redone with red leather and complimented with a shitload of gauges adorning the dash, but really there isn't much else to this car as it didn't need anything else. It is, after all, a '36 Ford roadster – one of the most beautifully designed cars to ever ship from Detroit. The fact that it was found on the islands just adds to lure, no?
In any case, the car still exists… and amazingly, is still in Honolulu. I haven't seen it with my own eyes yet, but will report back this summer.
14

Comments on the H.A.M.B.