Bringing Em Back to Life is So Satisfying.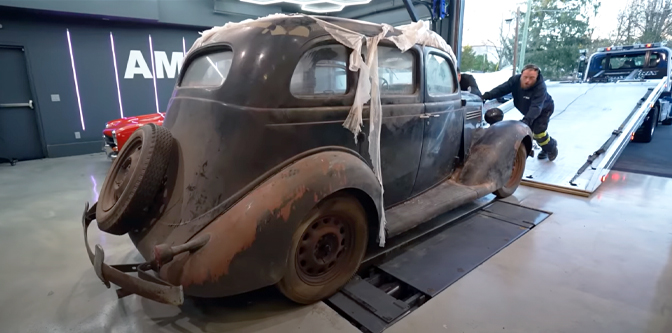 I'm typing this post up as what meteorologists have dubbed an 'Atmospheric River' is dumping mega rain right outside my window, so if I float away before finishing this, you'll kindly forgive me. Before the storm hit this afternoon, I fired up my 1939 Mercury convertible, which doesn't take rain very kindly, and moved her from janky backyard storage to a much drier spot in my garage. Once Springtime rolls around and the sun shines again, the '39 is gonna need to be deeply cleaned of mini mice turds and given some reconditioning love that she so badly needs. That reminded me of the guy at Ammo NYC that I shared a video of with you last year. His insanely detailed talent is taking old cars out of dusty slumber and spending copious hours of deep cleaning to make them shine like new again. Today's video is a very original 1935 Plymouth PJ sedan that hasn't been running or even washed since Jimmie Carter was in office and Rocky 2 was in theaters. I think you'll dig this video just to see some grungy mohair come back to life and hear a long-dormant flat Six fire up with surprisingly little effort. It's all quite satisfying on this very rainy day.
4

Comments on the H.A.M.B.