Car Spotting on the 1950 Streets of San Francisco! (Part II)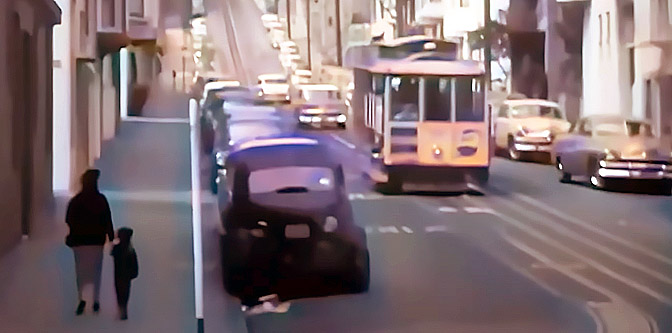 You might remember the last video like this that I shared, shot on the streets of SF in the early 50s? Well, I'm back with a new one from the 'City by the Bay' that was captured right around 1957 that I think you'll really like. This particular film focuses on daily street life as much as the cars, but there is still plenty of vehicle spotting to enjoy as you watch. The first thing I noticed was how many 'foreign' cars began to appear on the west coast by this point: VW Beetles, a Triumph TR3, MG TD, and event a Volvo 444. Then I started to notice all the killer 2 door hardtop models in the street. Now check out the station wagon assortment- Besides the usual woody wagons, I spied a steel-bodied '55 Chevy Tradesman, '57 Ford Country Squire, '57 Pontiac Chieftain, and '57 Buick hardtop wagons, among many others. Keep an eye out for the old T Bird and a Cadillac Fleetwood 75 limousine, too. The streets of San Francisco used to be lined with gold, I tell ya!
Let me know what you spot…
11

Comments on the H.A.M.B.