The Mahogany Corvette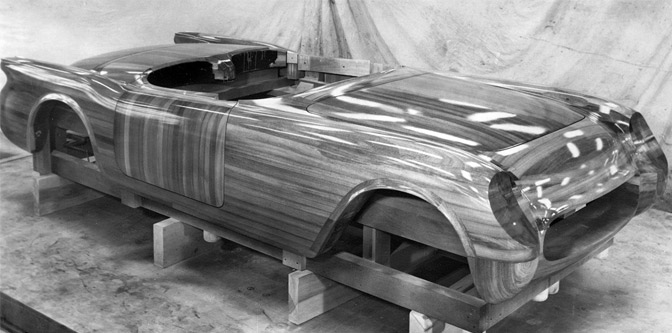 "Ryan, I know you don't like Corvettes much but I thought you might have an appreciation for these original Corvette bucks made of Polynesian Mahogany."
Wait. What? I actually love Corvettes and often rank the '63 split window as one of my favorite automotive designs of all time. I mean if Bill Mitchell thought of it, I probably liked it. He's my guy and the Corvette was his baby.
See, it's not at all that I don't like Corvettes. It's just that I refuse to be blinded by the historical marketing of the marque. While I know the Corvette was a fantastic sports car, relatively speaking, I also believe it to be a shitty race car. That's it.
I've got no shade to throw and do actually have a real appreciation for the car. These Mahogany molds, for example, were carved by a guy named Robert Morrison and his team at Molded Fiber Glass Companies. They were used to create the first Corvette body that debuted at the Motorman in 1953.
For every fiberglass part on the Corvette, a mold was taken from the mahogany example. This mold was then used to hand lay the final fiberglass part. It was painstaking and took hours on end to reproduce even the smallest of panels.
Afterwards, GM planned on making the production car out of steel or maybe even aluminum. But Robert continued to push GM towards fiberglass as the product of the future. Things looked bleak on that front until Robert got a call in the middle of the night from GM – they had decided to move forward with a production glass body.
The resulting business funded Robert and his companies for years. Eventually, GM was able to outfit their own factory to handle the materials in house and all of the molds that Robert created were destroyed. As far as I know, these images are all that are left of Robert's work…
28

Comments on the H.A.M.B.