1964 Ford GT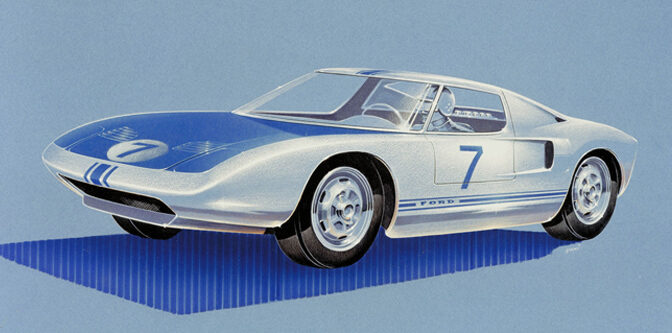 It's a natural progression to go from Briggs Cunningham's early independent efforts to his later efforts with the Corvettes and then right into the Ford GT40. That is basically the history of American sports cars in a condensed timeline… and, a such, I've been obsessing on the GT40 lately.
The thing is, the GT40 isn't really in spirit with the Jalopy Journal and the H.A.M.B.. Broadly speaking, the beast aligns better with the post-65 period of hot rods and sports cars. But you know what does align with editorial around here?
The 1964 Ford GT Prototype.
When compared to the ultra-successful MKI and II GT40s that came immediately after, the prototype GT actually looks like more of a relic from the period. Sans any NACA ducts or crazy scoops or fancy mag wheels, the first version of the car is a very simple shape with a low profile (40″ obviously) and slippery lines. The history of the car, however, is quite complicated.
When you think of the GT40, you think of an all American race car. It's actually far from it… In 1962, the Ford Mustang I concept was released as a sort of conceptual idea for what Ford would build given the challenge of Le Mans. Henry Ford II liked what he saw and approved the car for development. So, Roy Lunn and Len Bailey (principles in the Mustang I design) set out to find a partner capable of holding their hands through the development of a real race car.
The search found fruition in England. Lola was well on their way in the design and development process of the Lola Mark 6 and the boys from Ford couldn't help but envy the potential. Large checks were written and Ford and Lola joined forces – calling themselves Ford Advanced Vehicles (FAV). John Wyer was then hired away from Aston Martin to act as the Managing Director.
Their new car, initially called the Ford GT, was largely developed using American dollars and British engineering minds. FAV campaigned a couple of prototypes throughout Europe in 1964, but had little success to show for it. Failing to reach the expectations held back in Detroit, a change needed to be made. That change was Carol Shelby.
Ford used Shelby as both a team manager as well as the car's lead developer. And once this marriage started to produce better performance from the cars, other independent teams such as Holman Moody were injected for A/B testing.
The output of this development scenario was an absolutely dominate race car capable of winning Le Mans in 1966, 1967, 1968, and 1969. But even these later cars were initially assembled in England and then shipped to the United States for modifications. The only GT40 built entirely in the US is the MKIV… which means the ONLY All-American win in Le Mans history is 1967. A MKI won in both '68 and '69.
But again, I'm starting to get out of scope. Let's focus on the prototype.
The chassis was a steel monocoque fabricated by Abbey Panels in Coventry. Engine is in the middle while double wishbones were up front and dual trailing links with a transverse top arm were located out back. The incredible 15″ wire wheels were made by Borrani in Italy – 6.5s up front and only 8s in the back.
The first engine was a cast iron 255″ small block Ford with four Weber 48 carbs. It made about 350hp at 7200rpm and about 300lb-ft of torque at 5200rpm. The tranny was a Colotti Type 37 4-speed transaxle which proved to be a weak link early in development and was replaced by a 5-speed from Quaife.
On paper, these prototype GTs feature a humble list of components and specifications relative to the monsters these cars would become by 1965 or so. Even so, it's these humble beginnings that allowed guys like Carroll Shelby, John Holman, and Ralph Moody to put America on the international racing scene.
There is just something absolutely beautiful about the initial essence of it all… Seeing where dominance rose from and understanding how it came be. And well… The GT was a gorgeous car in it's own right:
A Sidebar Of Sorts
Back in 2020, Ford archivists were browsing some old negatives when they came across something amazing. Originally drawn in 1963 and previously unreleased, these negatives feature early concept drawings of the Ford GT as envisioned by both Ford and Lola.
I think it's interesting to note just how far the car came from these elementary concept drawings to the dominant GT40 MkI in just two short years. From ink and paper to Le Mans podiums in the blink of an eye.
***
93

Comments on the H.A.M.B.