Wood You Believe It?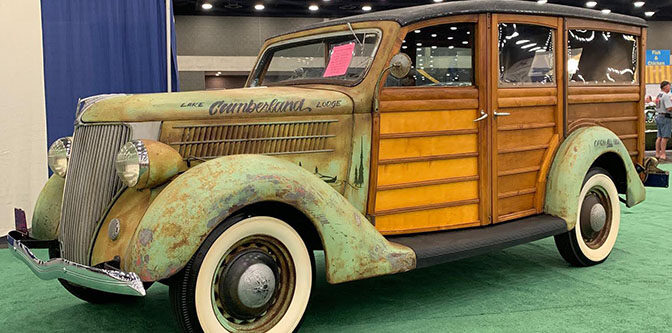 In this day and age, wagons are hot. Especially when they're woodys. Earlier this month, I shuffled into the Kentucky Exposition Center trying to avoid yet another storm at the Street Rod Nationals. Although the air conditioning was nice, I was drawn to a 1936 Ford woody that was even nicer.
Cars like this are such a treat. The story goes that this particular wagon was pulled from a pecan shed in Florida and carefully brought back to life. It's essentially stock, complete with a 221cid flathead, Wide-Five wheels, and all the right trim.
The sheetmetal is incredibly straight; it's clear that the majority of the wood has been well preserved. I can't say for sure, but I believe the old style "Lake Cumberland Lodge" lettering is a more recent addition.
Through a little bit of online research, I discovered that there were just over 7,000 of these cars produced. How many remain is anyone's guess. Even though I wasn't able to speak to the owner, I did take a moment to read the bright pink placard in the windshield. On the last line, he summed things up better than anyone else. "Fun car," he wrote. We couldn't agree more.
—Joey Ukrop
17

Comments on the H.A.M.B.