Family Tradition in Louisville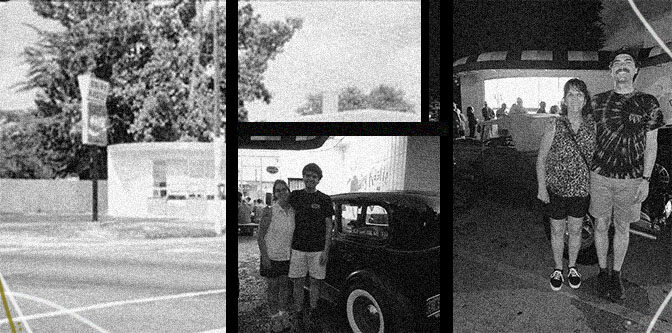 We all have our traditions when it comes to hot rodding. Maybe it's a place you like to cruise to, or maybe it's a group of friends you hang out with. For me, it's the trip to the Street Rod Nationals in Louisville, Kentucky. I've been going since I was 11 years old, and I've made my way over there every year since 2015. It's the perfect way to wind down the summer.
In the early years, I would drag my dad there from Michigan for a very long weekend. He would patiently walk with me through the rows of cars in the sweltering heat as I asked him to take photos of all of my favorites. I didn't know it at the time, but those trips shaped me into the hot rodder that I am today.
After college, the Street Rod Nationals turned into more of a work trip. My days were spent manning the booth and hanging out with other folks in the industry. Despite the hustle and bustle inside the Expo Center, I always managed to find my way outside to look at the cars—just like I did when I was a kid.
Last weekend, I returned to the Nationals for what I believe was the 10th time. As luck would have it, my folks drove down from the metro Detroit area to catch up before I flew back to California. After enjoying a nice dinner and soaking in the last evening light, I pitched an idea. "Hey," I said, "how about we get ice cream?"
For those of you in the know, Louisville is loaded with excellent mom'n pop ice cream stands. This year, we rolled over to one of my personal favorites—Dairy Kastle—which is located right by the University.
It was late when we pulled up, and the line stretched into the parking lot. As I surveyed the area, I noticed a burnt-orange 1932 Ford roadster front and center. Hot rods? Ice cream? Summer night? What could be better?
Upon closer inspection, I noticed the roadster had Vermont license plates, which meant it came from nearly 1,000 miles away. Deuce, Dairy Kastle, Louisville, Vermont—the whole scene seemed somewhat familiar.
Then it hit me. Back in 2016, I was at Dairy Kastle with my parents during the Nationals. When we arrived, we noticed a black '32 sedan with Vermont plates parked out front. Me being me, I asked my dad to take a picture of my mom and I in front of the car. I posted the picture on Instagram, and that was that.
Well, here we are back in 2022 and I ask my dad to replicate the photo with the orange '32. As we were taking it, the owner walked over to see what was going on. I introduced myself and I soon learned I was speaking with Brett Caliaro. Within a minute, I pulled up the 2016 photo. "That's our car!" he said. We both laughed. What are the chances?
Same families. Same place. Similar cars. I guess you say it's good luck, but I like to think it's the power of family tradition.
—Joey Ukrop
Vintage Kastle Photo by Katherine Smith
8

Comments on the H.A.M.B.