The Lost Art Of Lacing Cable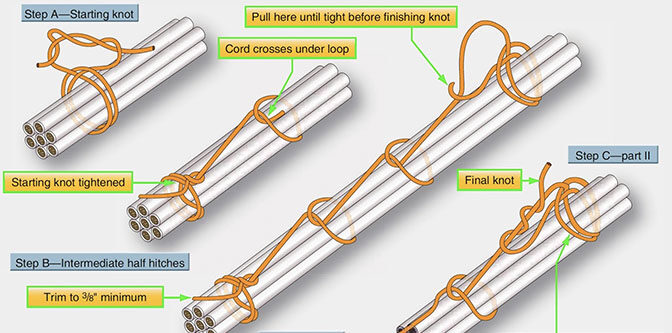 I'm still working on the last installment of my Briggs Cunningham series, but needed to take a little bit of a break from writing due to a home improvement project I've tackled this week. And in doing that, I was reminded of a tutorial that Tardel once gave me on the lost art of lacing cable.
I've seen quite a few hot rodders use laced cable, so I don't guess the art is too lost around here… But every time I do it, I have to go back through the tutorial just to remind myself how it's done. And that's exactly what I did yesterday when I tackled a bundle of A/V wire that needed to be ran cleanly through a wall. I figured I might as well double down this morning and post about lacing here as well.
Cable lacing is simply a method for tying wiring harnesses and cable looms. It's an old technique developed in the aerospace industry and later adopted by everyone from linemen to television studios. It's main benefit is that you can loom anything from a couple of 22AWG wires to a gigantic loom of 0AWG power cables. And once done, you have a smooth/clean loom absent of plastic knobs or any other obstacles on the loom itself. It's just a super clean aesthetic that looks the part on any hot rod or custom.
The best cord to use is waxed linen. I typically get it in 500-yard increments from Amazon. You can get it in black or white. Once you have that, just get your wires together and go to town using this simple tutorial:
The end result is a clean, tidy, and period appropriate look to your looms. Here's a few quick examples:
Pretty boss, right? If you've got examples, feel free to post em up! Super organized spaghetti often hits different for a lot of us.
72

Comments on the H.A.M.B.