Weekend Heroes II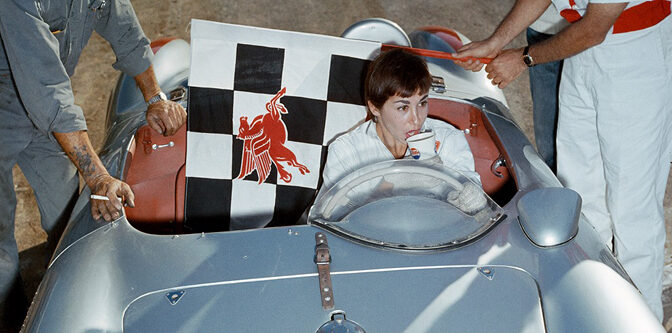 There was a time in the postwar American racing scene that hot rods and sports cars intersected. In the early 1950s many of the speed-crazy El Mirage and Bonneville alumni began transitioning into competing Porsche 356s and Jaguar XK120s in the burgeoning SCCA-sanctioned weekend races. The new influx of small, light European cars meant off-the-showroom racing rather than the American standard of drag racing, with required more and more dedicated machinery to stay competitive. Gear heads (Carroll Shelby and Dan Gurney among them) felt the thrill of running in a pack of 20 -30 cars, taking hairpin turns rather than a repetitive 1/4 mile timing strip, and these little sports car could be just as fun on the street.
Tony Adriaensens has spent a great deal of effort gathering dynamic images from this formative era of American sports car racing and recently released the three volume set 'Weekend Heroes II" (good luck finding the 2007 original book, which trades for upwards of $1K!).
"The strength of Weekend Heroes is its remarkable period color photography.  All color images in these three volumes were scanned from original 35mm Kodachrome and Anscochrome slides, and 120mm Ektachrome transparencies.  Our main source are collections we gathered over the years form amateur photographers (Joe and Margaret Smith, Bob Lytle, Al Long, etc.) who usually wandered around the track and pits shooting pictures.  So much different from professional photography who always used black&white film (magazines were not printed in color yet) and had to make sure they had every competitor in action from one or two vantage points.  This results in the same images, only with a different car; he had to make sure to have at least on action shot of the eventual winner, something he obviously didn't know at the start of the race."
I don't need to blather on more, just soak in a little glory of 1950s California sports car racing in the USA:
10

Comments on the H.A.M.B.