55,000 Words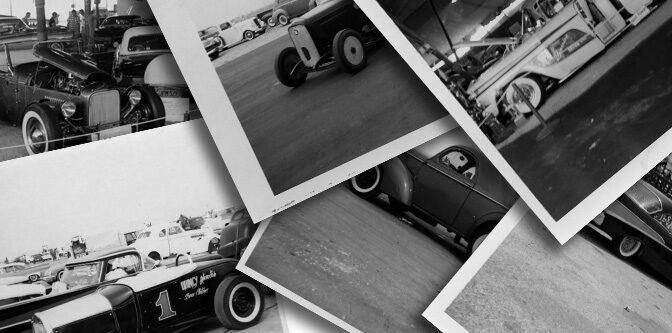 Sometimes, I get mail that makes me question the beasts that are responsible for humanity. Other times, I get mail that sends me spiraling into a utopian dream where history is perfect and the cars are even better. This… Well, this is one of those times.
Trudy Sanders' brother passed away a few years back. When she was dealing with the aftermath of losing a loved one, she stumbled upon his collection of hot rod photography. He loved hot rods and had been holding onto these photos for decades, so Trudy figured they were special in some way. She just didn't know why or how or what to do with them.
Looking for clues, Trudy sent the stash my way. I spent most of yesterday scanning the collection – watching my monitor in awe as the Epson enlarged and brought out details from the tiny 3.5×3 prints. I've been enamored ever since.
We don't know who took the photos (maybe Trudy's brother?), but we can figure out where and when – right? The photographs were all taken between 1955 and 1960. Many of them feature cars we all know well… and I think I recognize at least one of the drag strips. But, I figured sourcing each photo would be a fun exercise for us all to do together.
So… If you see something you recognize, call it out and let's make sense of this amazing collection.
76

Comments on the H.A.M.B.