The Shampoo Truck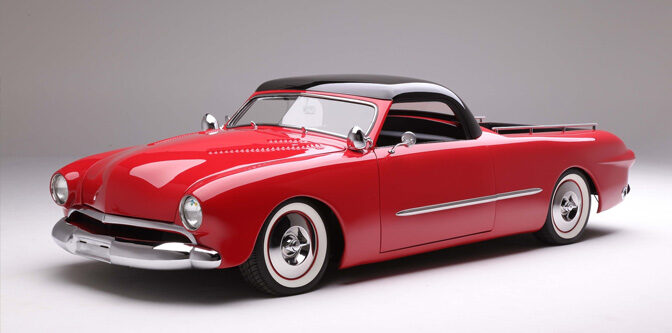 Last week, I got into a conversation with myself comparing and contrasting the work of Joe Wilhelm and Joe Bailon. It got so intense that I eventually found myself with an overwhelming pile of photographs from each of their portfolios. Initially, my conclusion was that Bailon styled radical customs and Wilhelm, for the most part, styled clean lines with no regard towards ego or show.
And then, I remembered the Shampoo Truck.
In the mid 1950's, the Ranchero was not yet a thing… But the functionality of a car based pickup was something that Horace Davi desperately needed for his traveling Shampoo business. Necessity forced Horace to Joe Bailon and before long a 1949 Ford "ranchero" existed in the world.
We all know the Shampoo Truck. It's been featured, discussed, studied, and re-featured many, many times. What I have never done, however, is really considered it from a form meets function perspective. I'm so used to considering Bailon a radical custom show guy, that I have never stopped to really consider the car past that.
Comparing Wilhelm's work to Bailon's forced me to remove Bailon from a box that I put him in and look at his work a bit differently. Sure, the Shampoo Truck is a FULL custom automobile. It's chopped, sectioned, frenched, shaved, and cut in just about every way you can manage… BUT, every snip here and every snip there seems to be motivated not by show points, but by purpose. In other words, despite all of the radical changes from a stock '49 convertible the car is still incredibly cohesive.
The end result reminds me of a Porsche 356.
Wait. What?
***
Just prior to WWII, Ferdinand Porsche and his sister set out to design a car with purpose. Their goal was to build a car that was so light it had no choice but to be both fast and nimble. Every single design decision was based off this idea. Nothing else was considered. Not comfort. Not fashion. Not practicality. Nothing.
And by 1948 or so, the Porsche 356 was born.
It's not hard to see visually is it? Ferdinand was on to something and the 356 would eventually lead to one of the longest running single model production cars ever – the Porsche 911.
***
Now, lets step back into Joe Bailon's office in 1954 or '55. I can see him sitting at a tanker desk in his office… I don't know if he smoked, but if he did there would be a cigarette hanging from his mouth and a half full ashtray to his side. Papers are fucking everywhere – coated by grinding dust and grease.
Across from Joe sits Horace Davi. I imagine him smartly over-dressed for a shop environment, but with desperation in his eyes. He NEEDS a truck that is as easy to drive and park as a car, but that can haul enough flowers to supply a weekend's worth of weddings. Joe is his savior.
And for whatever reason, Joe obliges. He ignores his urge towards radical shapes and paint and instead, thinks about what Horace truly needs. Like Ferdinand, he hyper focuses.
It's not wonder that the Shampoo Truck is unquestionably my favorite Bailon build. It's timeless simply because it was built with actual purpose.
41

Comments on the H.A.M.B.