The Clif Inman '57 Chrysler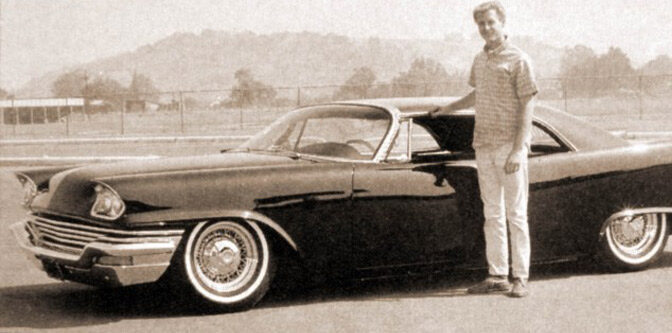 If I had to name one car that influenced more late customizers than any other, I would probably chose the Clif Inman '57 Chrysler. In fact, I've talked to a lot of legendary names that have placed the car on their own lists of inspiration. Dick Bertalucci and Larry Watson both sang their praise to me and Gary Howard once told me that the Joe Wilhelm built car was his standard for perfection.
And the thing is… The Inman car is well known, but it's not often considered to be as important as it really was. Sure, it's on the cover of an Andy Southard book and was featured in Rod & Custom, but past those honors you don't often hear the car brought up in conversations of standards.
I think there's a case to be made that the car stays under the radar due to its simplicity. Joe Wilhelm did what Joe Wilhelm did – he didn't necessarily build a custom car as much as he took a '57 Chrysler and just made it cleaner, lower, and better. And at the end of the day, isn't that what customizing should be all about?
Forget everything you know about custom cars and their history. Just think about line, style, and form. Don't even think about cars… Now, look at these two images:
At first glance and with a drunken squint, Joe's effort and a stock '57 Chrysler Windsor don't look all that different. In fact, it would be fair to say that the Inman '57 simply looks like the brochure illustration while the stocker looks like a production car. And that, my friends, is why the Inman Chrysler is so very special.
And don't make the mistake of thinking there's less work in this thing than there was in some crazy Barris creation of the same period. Dealing with the glass alone on a chop like this is enough to make most guys run for drugs and hookers. Such a clean utilization of quads up front and the ubiquitous tube grille are just further examples of talent based restraint. And none of these additions speak to the level of finish. I've been told that Inman's car was the blackest car built prior to 1962… and nothing is really black unless it is CRAZY straight.
In any regard, I'll be featuring a modern build inspired by Inman's in the coming weeks. Figured I'd get my point of view out of the way before hand…
54

Comments on the H.A.M.B.