The Marauders' Machine
This weekend, I'm up in Portland, Oregon, with my friends for the One Motorcycle Show. We spent Wednesday on the road, racking up miles as we approached The City of Roses. There's five of us this year, and it will come as no surprise that we all scoured Craigslist, Marketplace, local classifieds and just about everywhere else as we made our way up north. During my search, I came across a car that was too good not to share.
Longtime readers of this column will remember when the subject matter revolved around quarter-mile machines: Gassers, Altereds, slingshots, you name it. Although my interests have shifted to more street-oriented hot rods as of late, there's something about seeing a drag car of yesteryear that's downright exciting. With that, I present to you this 1948 Austin.
There's saying that there are few things less valuable than an old racecar. Once they're outdated, they're either upgraded or stripped of their useful equipment and discarded. That's why when cars survive, I pay extra attention.
This Austin was originally built for Gas class racing in the early 1960s. Campaigned by the Marauders Racing Club, the little sedan ran out of Woodburn, Oregon, which is located about 35 miles south of Portland. It checks out, considering Woodburn Dragstrip opened in 1961.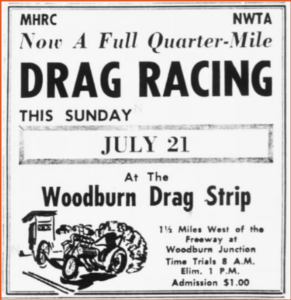 Soon after I stumbled upon the car, I reached out to Oregon hot rodder Marty Strode. Unfortunately, he didn't remember the exact car, but he knew of the Marauders. "I do recall the club," he says, "as they ran a '53 Stude in Gas class, either C or D. The car was blue and driven by 'The Greek."'
Judging by the Austin's H/Gas markings, the car was initially raced with a small-displacement powerplant. My first guess would be an inliner, but there's not much room in there. Maybe a flathead? The seller said it once had a smallblock Chevy, and the scoop is in the right place for that.
Even though there's a lot of rough work on this old Gasser, part of me wants to bring it back to life and drive it on the street. It needs, well, everything, but the paint is period perfect—especially the groovy "My Little Sunshine" piece on the decklid.
This car is a piece of Pacific Northwest drag racing history, and I hope it goes to a good home. Maybe we'll see it tearing up nostalgia events in the not-so-distant future.
—Joey Ukrop
Photos from the Marketplace Ad. Woodburn flier from Dragstriplist.com
15

Comments on the H.A.M.B.