2022 Lonestar Round Up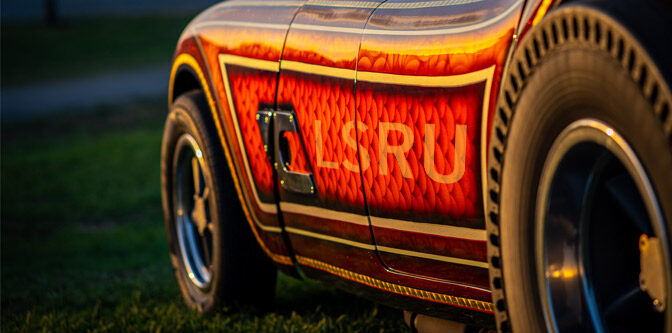 The last five years have proven the gumption of the Lonestar Round Up. In 2018, we had the bitter cold. In 2019, we had the floods. And then, in 2020 and 2021 we had the Covid Cancellations as well as the social media lunacy that followed.
That's a five year span that would kill off just about any other show in the country. But not the Round Up… Will, Brian, Steve… They each refused to allow any kind of bullshit to get between them and Austin's god given right to host the best damn car show in the country. Circumstance might be able to contain this trio for a few years, but nothing can stop them – The 2022 Round Up proved that.
My show started early on Friday morning. Given that I was going to run The Jalopy Journal booth solo, I asked Brian to secure me a spot in an area less traveled. I ended up surrounded by deuce framed hot rods built by Hilton and early customs and lowriders built by the Los Cochinos. It was a fitting contrast and an environment that I really enjoyed.
Friday was smaller than has been typical. I don't know the counts, but there seemed to be less cars and people roaming about. The quality, however, was through the roof. This dynamic created a day that was probably my favorite since the Round Up moved to the Expo. It was quiet and laidback, but there was a certain energy about things. It felt like a pre-party of sorts – a build up to something bigger.
I got so comfortable, that I decided to stay overnight in my old Clipper. This turned out to be a decision that I'll never forget. At one point, I found myself entirely alone with acres full of hot rods and customs and a sun setting peacefully in the background. For a photographer, this is a dream scenario but I just couldn't get myself to shoot. Instead, I sat on my porch, drank a beer, and took it all in. No cameras, no phones, no computers… Just me and a shitload of old cars and history and… It was religious.
The next day, the sun rose and the Round Up as we all know it was back. Thousands of cars and thousands of people rolled through those gates. Someone woke the monster.
And hell – I'll admit it. I don't get car shows – especially big ones. But, there's just something about the Round Up that strips me of those weary and jaded thoughts and replaces them with enough frenzied hysteria that I forget about my own anxieties and preferences. The Round Up is just bigger than all that. It is what it is because Austin is a special place and the people that make it special are the very people that built the Round Up.
It's the only time you will ever hear me say, "It's more about the people…" Because those people? They are my family.
***
But yeah, it's about the cars too. By circumstance, I had two awards to give out this year. I picked a wild Kellison and a Clif Inman inspired '57 Chrysler. You will hear more about both in the coming weeks. Until then, I'll leave you with the very few shots I took while all alone with the show. The Chrysler had left for the day and I was 100% distracted by the Kellison and… I have no further excuses to give.
Thankfully, Tom Davison has all the coverage you will ever need. And if you are in need, you know what to do.
34

Comments on the H.A.M.B.