Zen and the Art of Hot Rod Interiors
Editors Note: It's not often that we publish ghost writing around here, but this one is just so well deserved. Sean isn't one to squeeze his own turkey and there isn't a more talented guy in Austin… at anything. Plus, he is just one hell of a stand up guy. So, without further ado here is our first story by a ghost writer. Enjoy.
You just know it when you see it – talent, craftsmanship…
Sean Johnstun is a true artisan. When you see him, underwhelming comes to mind. This is a guy whose uniform is a glue stained T- shirt, fray legged cut-offs, and tennis shoes that once looked good on the shelf at an Austin Wal-Mart. He's on his feet so much that he seems to be shedding those shoes one layer of pleather at a time, but then you glimpse the hair… There is something there after all. That hair wouldn't lay down for all the wax in South Austin. You're left with an overwhelming sense that for someone who epitomizes the finest in hot rod interior styling, he sure could use a makeover. But then you realize that all he cares about is making the coolest fucking hot rod interiors on the planet and that's all he has time for.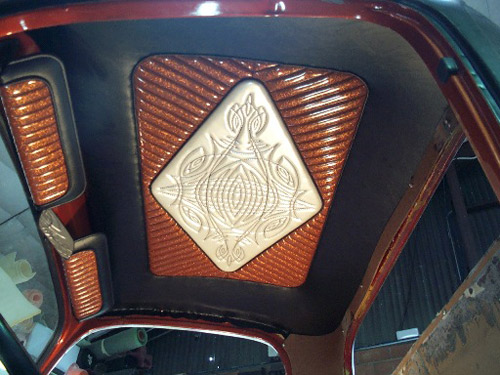 Most know him as Fat Lucky, former proprietor of Fat Lucky's Upholstery, now a part of the South Austin Speed Shop. In fact, sadly, Fat Lucky is deceased… long gone. You see Sean started out to be a clothing designer, but when he was living in Vegas most of his friends were lowriders. They changed their shit up regularly and he started changing their upholstery for them. Pretty soon he had skills and moved to Austin to attack the next phase of life. He struggled for a while in Austin to find his place and it was during that period that he drove an ice cream truck with his faithful dog, Lucky. Pretty soon, Lucky became Fat Lucky and Austin hot rodders found Sean.
The real mystery here, knowing Sean, is how he got so famous and well respected so fast. You see, he just doesn't say much. In fact, it seemingly pains him physically to participate in a conversation. He has a Beavis laugh and a desert dry sense of humor, but just try and draw him out and you'll be left waiting. He keeps his own counsel, but he's smart as a whip and when he does speak, everyone wants to hear what the oracle has to say. That's what makes Sean a modern day hero in the traditional hot rod world. That's where the mystery of Sean's success becomes easy to decipher. Take a look at his work and you'll become an evangelist. His design skills, his eye for flow and color and fabric, his stitching and striping ability are consistently beyond the average guy's imagination.
Any customer who has ever talked with him walks away wondering what the hell is he thinking. Sean's basic response to the "What are you going to do?" question is simply. "Well, I have some ideas". When they get the call to come get their ride, the experience is prototypical. First the design catches your eye, the mix of colors and fabrics, the panels, the wire straight stitching, the super tight pleats,the consistency of the piping. He uses materials that allow the work to live in the elements, and doesn't cheap out with cardboard for ease and speed.
Stay tuned and watch the Cochran/Tardel Coupe get its chance to join the parade of cars with Fat Lucky's Interiors.