Merry Christmas & Happy Holidays
Well fellas… Another year down. And while I know the whole world has been going through a pretty rough time, it's hard for me to admit that 2021 was all that bad. Got my health, got my family, got most of my wits… hell, who am I to complain?
In any case, I wanted to take this time to wish you all a Merry Christmas and a Happy Holidays. I love ya all and wish ya nothing but the best!
While I'm at it, I had a thought… What's your favorite piece of holiday related hot rod or custom art? For me, the call is easy… Wayback when, Jeff Norwell sat down an drew that jolly old bastard in the foreground of a gorgeous deuce roadster illustration. To me, it's perfect.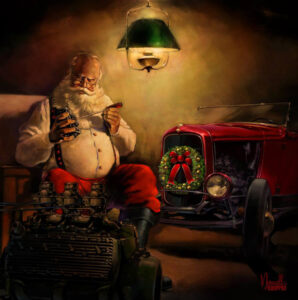 Anyway, post your favorite. Only rules are this: Art has to be either vintage or traditional hot rod and custom related. DQs lead to coal.
64

Comments on the H.A.M.B.