Introduction to Treasure Hunting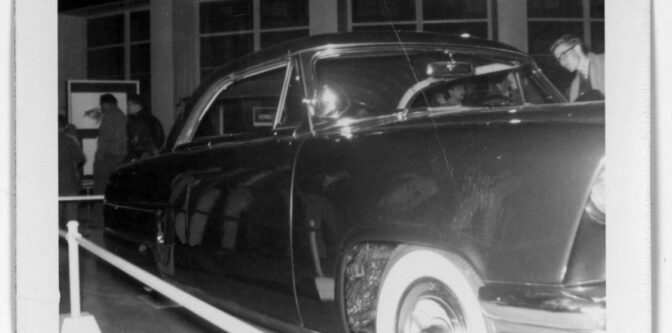 On Woodward Avenue there's a bookstore called King's. More specifically, John K. King's Books North. According to the hand-lettered sign on the front windows, they specialize in "Used & Rare Books." I sit in the car outside with my family, waiting for the shopkeeper and his little dog to unlock the door once the clock strikes 11. My dad casually mentions that the building used to be a hobby shop.
Back in the 1960s, it housed model trains, model cars and all the necessary supplies to build them. He said he used to always beg his mom to swing by there when they were in that part of town. Sometimes they did, sometimes they didn't. The hobby shop is long gone; now it's King's.
Walking up to the store, I peer through the windows at a line of featured books on small wire racks. A tattered book with a goldenrod jacket catches my eye. I read the cover: Introduction to Treasure Hunting. I keep reading.
"Outdoor adventuring at home and everywhere to find cash, old coins, jewels, historical relics, valuable objects…where to look, hot to get clues, tips on getting results…"
 I think about treasure hunting for a second, and then I think about how much I would like to find some of those things. Moments later, I'm in the store, floating through the shelves. Familiar scents of must and dust fill my nostrils. I can almost taste the history.
Over by the philosophy section, I spot a stack of well-worn photo albums on a shelf. A small, gray recipe box sits on top of them. I open it. It's filled with loose Polaroids. My heart begins to race. On the very top of the pile, I find something familiar—a 3×3, black and white snapshot of a custom Mercury.
Judging by the background, I can tell that the photo was taken at Ford's Custom Car & Hot Rod Show at the Rotunda in Dearborn, Michigan. The subject is a 1952 Mercury with shaved brightwork, nice paintwork and what I believe to be Jimmy Jones bubble skirts.
With a little bit of research, I was able to confirm that the car belonged to Nello Tacconelli. It was one of 18 hot rods and customs on display at the Rotunda. Next, I checked the back of the photo for more clues. In pencil, it read "3-22-55." The show ran from March 15-27 of that year, so the dates check out. According to Custom Car Chronicle, more than 63,000 enthusiasts from around the world were in attendance. One of them took this picture. But who?
Strangely enough, Tacconelli's Merc was the only custom car photo in that recipe box. I did find two other snapshots that I liked, both of which can be found below.
This snow day shot is especially fitting for the season. On the back, someone wrote the address: "9268 Stone" and the year, 1950. I pulled it up on Google Maps and, much to my surprise, the street looks very much the same.
There's the Public Lighting Commission, the two-story brick house with its peaked roof and even the same trees, now 70 years older.
I have even less information about the last picture. The note on the back indicates that it's Bill and W.G. in the car. We do know this: the photo was taken in Michigan, and the '57 Ford convertible is practically brand new. It's a classic scene.
***
As we pulled away from King's, I couldn't help but smile knowing that digging up these old Polaroids was my treasure hunt—just like in that book in the window. I thanked my dad for taking me along, and for picking up the tab. I reluctantly asked how much he paid for the pictures. "Twenty-five cents apiece," he said. "They were probably happy to get rid of them." He was probably right.
Looks like we'll have to go back sometime soon.
—Joey Ukrop
Merry Christmas! Happy Holidays! I hope you have a safe and relaxing weekend with friends, family and those you care about most. 
13

Comments on the H.A.M.B.