Ride The Curb…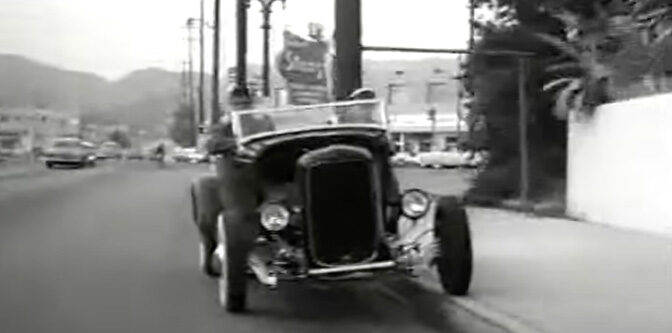 I'm on the island again. When here, I'm always so tempted to post nothing but content related to hot rodding in Hawaii… But I fear it's wearing thin with my audience and, honestly, I don't want to run the Hawaiian archive too thin so quickly.
So, here's a break of sorts… before it starts…
I also have an admission to make. You know all those 1950's era hot rod movies? There isn't a one that I would consider good. There's a few that are so bad, they are good… but, yeah… contrary to popular belief, I haven't watched a hot rod b-movie in decades. There is, however, one scene that I think about quite regularly.
Hot Rod Gang is one of the worst acted movies of all time. It's budget in relative times would equate to something your average YouTuber would laugh at. Its plot is on a similar plane. It's just… well, it's all around just a bad movie in my opinion, but there is that scene… Maybe you know the one I'm talking about:
Obviously, the film speed is accelerated quite a bit. But, take note of the isolation shots when the cars are actually riding the curbs. The white roadster is crawling, but the black car? That dude is actually giving it a pretty fair ride as witnessed by the suspension effort.
For years, I have imagined this scene and then thought about the two stunt drivers responsible for it. You think they fought over who got the driver's side curb?
45

Comments on the H.A.M.B.