El Mirage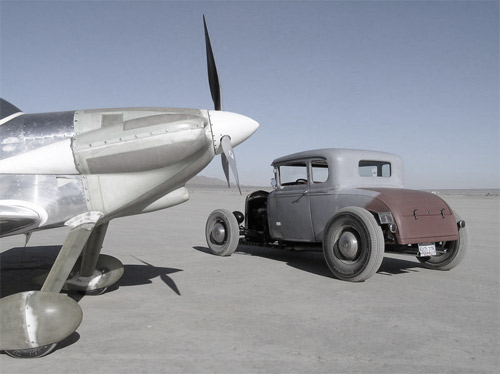 There is nothing more natural to a hot rodder than racing at El Mirage. It's like a doctor taking a patient's pulse, a teacher handing out grades, a construction worker hammering a nail… And that's why I'm so ashamed to say that I have never been there. I've never sat foot on a land speed course.
At some point, we as hot rodders lost sight on our purpose and the activity of hot rodding changed from a sport to a leisure activity or hobby. Timing tags were replaced with show plaques and pithe helmets by trucker caps. It's just more convenient for us to build a shadow of a hot rod than to build a car with an ultimate purpose.
Frankly, there is no one to blame. It's just down right impossible for most of us to step foot at El Mirage or Bonneville four times a year, so why build to that purpose? Doing so is just down right financially irresponsible for a guy in the Mid West. An impossible dream.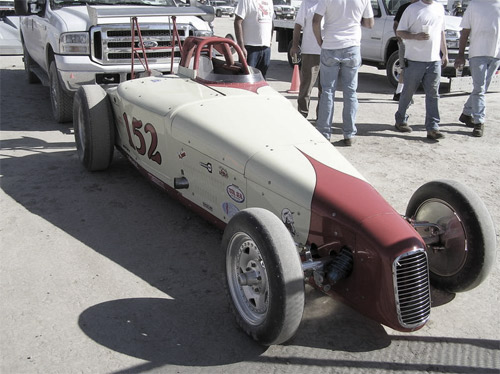 Take a look at these shots from El Mirage this past weekend. Study the details of the cars and pay special attention to the form/function equation. It's in perfect balance because the ultimate goal for all of these cars is simple and without convolution. Speed. Power. Hunger. There are no side influences that clutter the cars. Builders aren't worried about street laws, trends, driveability, practicality, etc…
I guess it's this singularity in purpose that drove me to traditional hot rods and kustoms in the first place. There is some clutter here and there of course, but a good traditional car has the same feeling as a solid land speed car in that they both touch the same nerve. They are both just so honest… A guy from the Mid West can build to that and while he might not have a timing tag to show for it, he does end up in the same happy place.