Harvest Drags: The Full Story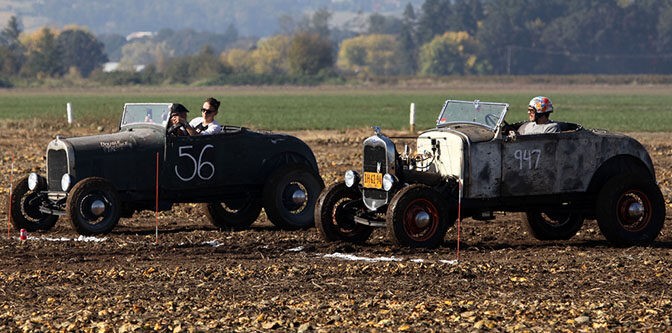 Last October, I stood in a field in Oregon with camera in hand. The day was winding down, and I could tell another cool Pacific Northwest night would be setting in soon. I was more than 600 miles away from home, and I tried to forget the fact that I had 10 hours of driving to knock out before sitting down at my desk for work on Monday morning. I was surrounded by a dozen early-style hot rods, all of which spent the afternoon racing head-to-head. These were real hot rods, driven by the men and women who built them. I was there—all there—and nothing could pull me away.
That day, I made a promise to just about everyone who would listen. "Mark my words," I said with unwavering authority, "I will be back here next year with my car." Much to my surprise, nobody tried to talk me down. I told them about my skeleton of a 1930 Ford roadster that I was putting together in my leaky, clapboard garage in San Francisco. They didn't scoff. Instead, they listened. And then something unexpected happened: they offered for me to race their cars.
Overhead bangers. Multi-carbed flatheads. Survivor racecars. Chopped tops, rooster tails and the infamous "Dirty Bird." My new group of friends threw me right into the ring. They trusted me with their machines. They prodded me to push them to their limit. "Floor it!" "Don't worry about it. Shift it like a Toyota!" "Give 'em hell!" I did just that.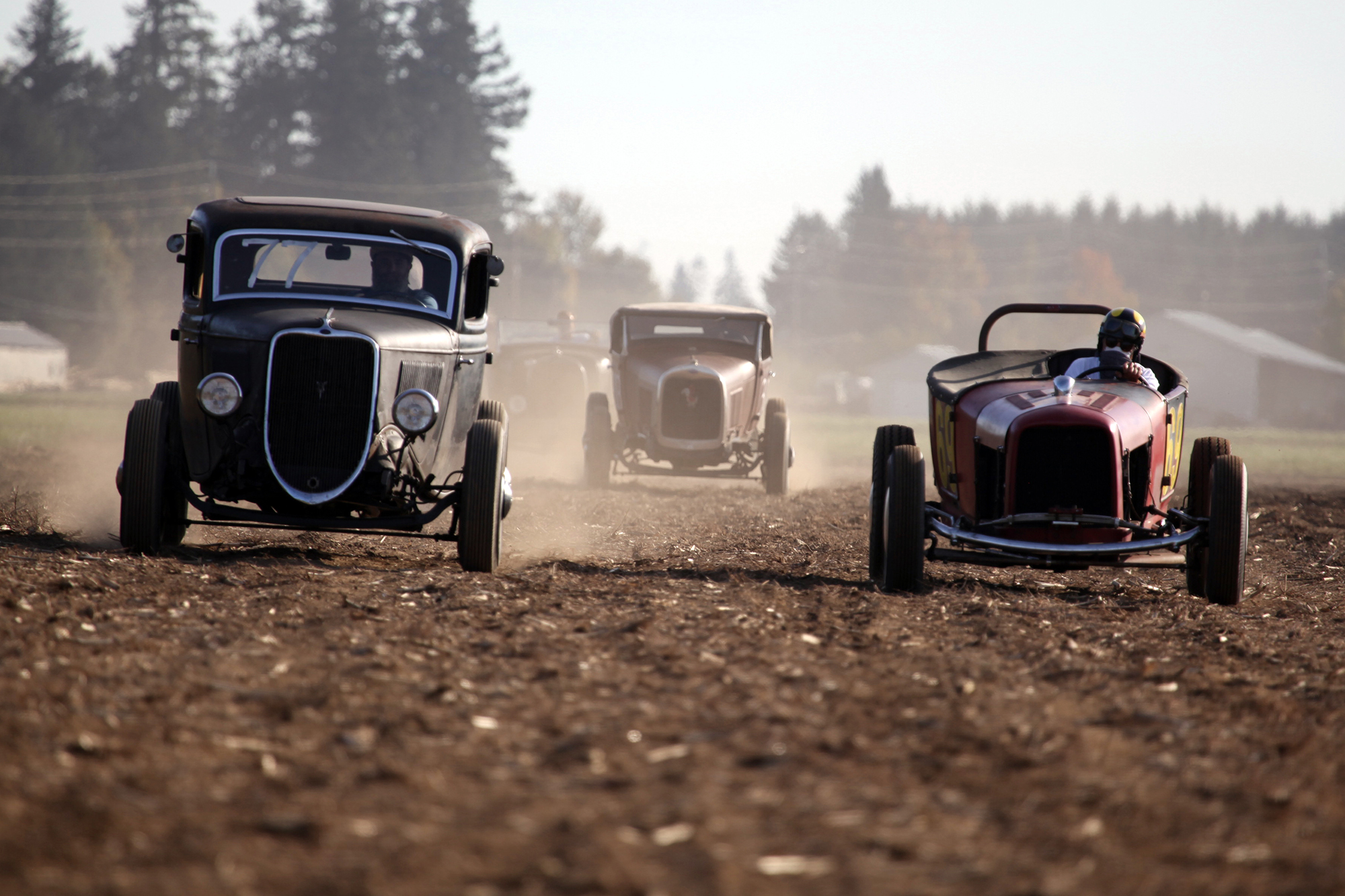 It's hard to overstate the impact that first trip to Charlie and Kelli Hascall's Harvest Drags had on me. There in Oregon's wine country, my perception of hot rods changed forever. I learned firsthand that these cars are tough. They're made to be driven; they're made to kick up chunks of earth off all four wheels and leave you covered from head to toe in dirt as you pick mud from your teeth.
When nighttime fell, I was exhausted in every sense of the word. I promised Charlie I would see him next year…no matter what.
***
There was never a question as to whether I would be racing my roadster at the 2021 Harvest Drags. Even though I didn't know how to put together a car, I knew I needed to have it ready for October. So, for the next 365 days, I worked to bring my Model A to life. (As much as I would like to get into the details of that now, I'm saving those stories for a future article.)
When October rolled around, I hatched a plan. Haul the car up to the drags, race all day, then drive the 50-some miles to downtown Portland on winding backroads. After spending Sunday ripping around the city, I would cruise back down to my truck in McMinnville and head home. It was a driving-heavy plan, especially for someone who has never pulled a trailer more than 20 miles and hasn't ever driven their Model A outside of San Francisco. Me being me, I wasn't going to waver.
Before I could finish explaining my idea, my friend Yama stopped me. "I'm in," he said. "Plus, we can shoot an episode for the Mazi Moto YouTube channel." With that, I tuned up the car and started putting the pieces together.
***
U-Haul. Oakland, California. Armed guards. Night driving. Tailgaters. Neon signs. The Hi-Lo Motel. Two a.m. lobby journalists. Onion and garlic season. Choppers. Craigslist. Truckers. Doja Cat. The small moments and the big moments ticked by like mile markers on Highway 5, glistening in the high-beams. By Friday afternoon, the dust had settled. We made it to McMinnville, Oregon.
We were relieved, but also fired up about everything the weekend had to offer. That night, we stayed with our friend Noah Norwood—better known as The Hot Rod Kid. Longtime readers will recall that I was on his HRK podcast back in February. Seeing that we were in the area, he hatched the idea to record an episode with Yama and I right there at his kitchen table.
Held over with Little Caesars and Rainier beer, we had a great conversation about hot rods, choppers, road trips and my upcoming magazine project, Slot Mag. If you're interested, you can listen to episode 13 in its entirety here.
As I drifted off to sleep that night, my thoughts were spinning like a Model A dizzy. "How's it going to go tomorrow? Will I hold up? More importantly, will the car make it?"
***
Saturday morning was cool and misty in McMinnville. As Noah rolled open the doors to the shop, I couldn't help but smile when I saw my car there waiting for me. I warmed it up and backed it out into the fog. The crisp air reminded me of those early morning trips to San Francisco's Ocean Beach. Yama and I hopped in the roadster and drove towards the drags.
Like I mentioned earlier, this is the first time I've ever driven this car outside of the city. Truth be told, I immediately felt at home on the winding two-lane roads. Through the chopped windshield, we saw barns, fields and leaves changing from green to copper, auburn to gold. We clipped along, stretching the 'banger's legs as we approached North Palm Speed.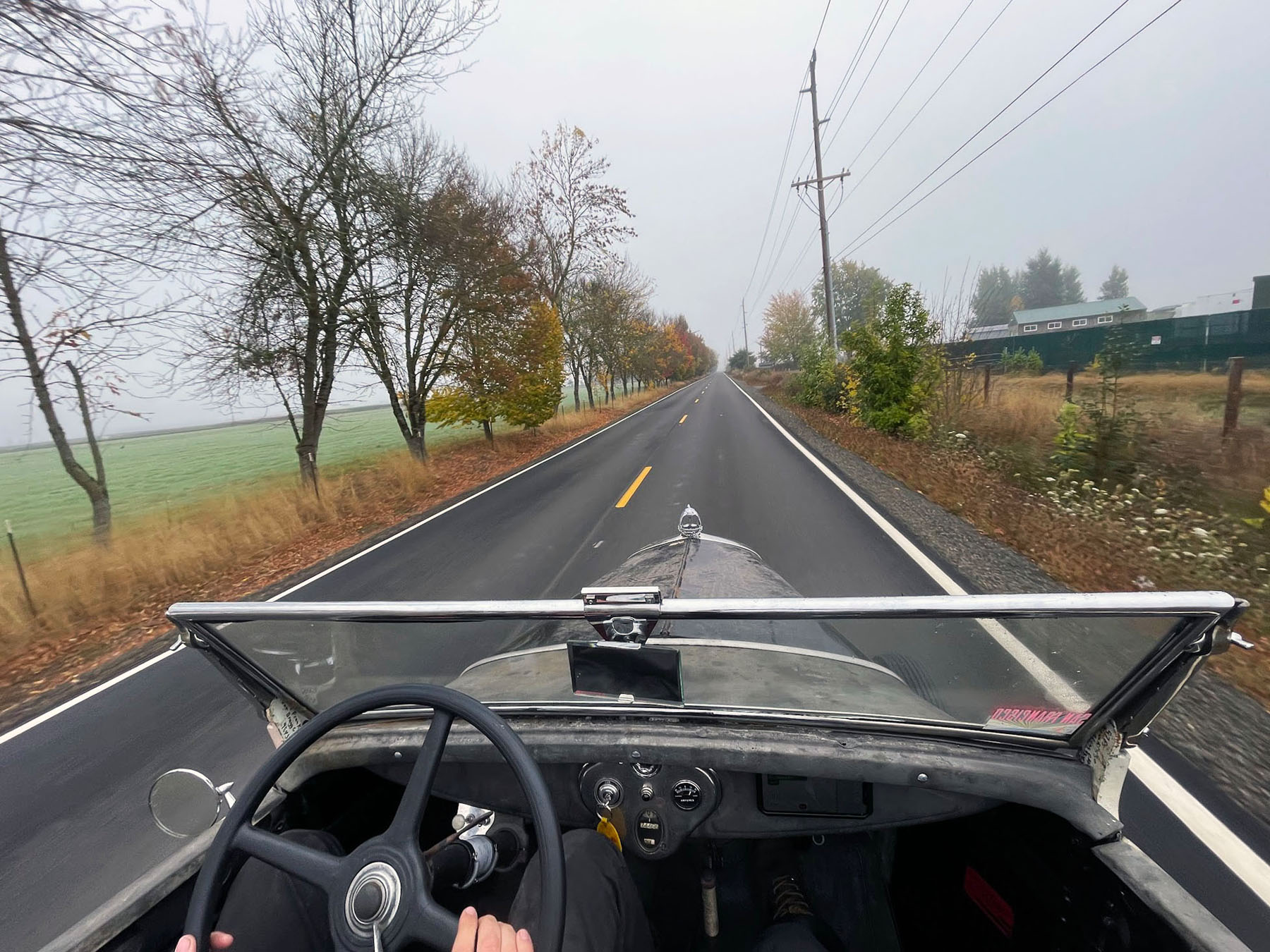 Driving onto the property, I spotted Charlie instantly. "Charlie!" I yelled from the front seat, reaching out my hand. "I was gonna say, I didn't even recognize this roadster!" he said with a smile. We laughed. Just like that, we had arrived.
***
I felt the goosebumps form as I pulled my car onto the field, backing it in line with 22 other early Ford hot rods. From gow jobs to racecars, survivors to freshly finished builds, it was one of the most impressive collections of vintage tin I had ever seen. Best of all? This wasn't a static display. Not by a longshot. Once the pumpkin patch dried, we were racing.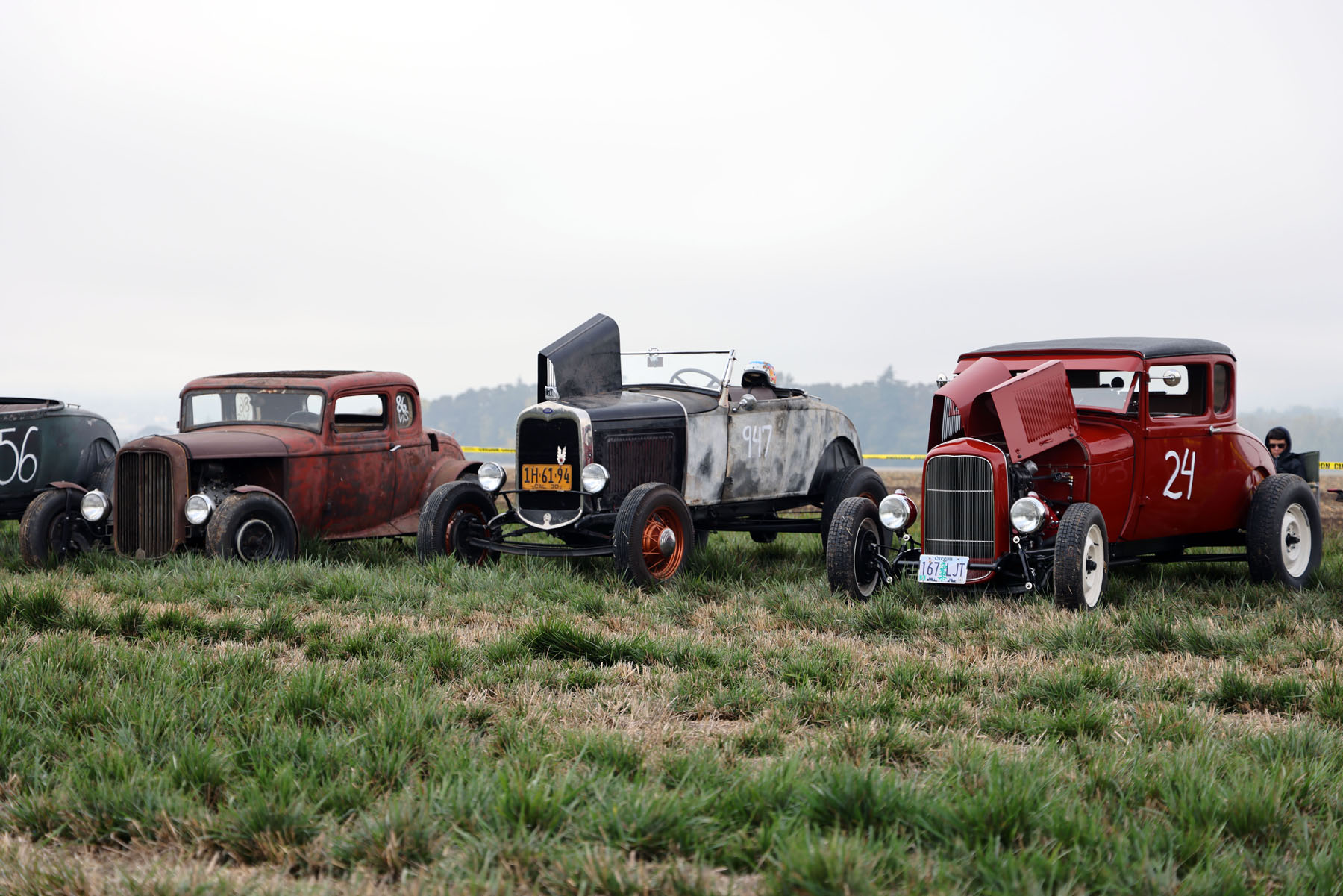 When that time arrived, I was having too much fun to worry about anything. I didn't have to remind myself that this was what I had been working towards. The whole thing was natural, fluid and absolutely no pressure. When I strapped on my helmet and buckled up my aircraft seatbelt, I was ready.
The starting line was marked with chalk. Both lanes were muddy, one slightly muddier than the other. I creeped up. Kelli was flagging. I looked over at my opponent, then back at Kelli. Clutch in. Flag up. RPM's up. Flag down. Off with the clutch. Down with the foot. Mud and chunks of pumpkin flying every which way, splattering my windshield like an earthy Jackson Pollock. I fight to keep the car straight. I'm sliding. I'm laughing. I'm winning (?)
I'm there.
I'm all there.
***
I spent that Saturday surrounded by some of my favorite people in the world. I made a whole lot of passes, winning some races and losing others. And when it was all said and done, Yama and I said our goodbyes. We had our reliability run to Portland, and we were hoping to make it to the city by dusk. Per my calculations, it was about 50-some miles. Everyone wished us luck. Just like that, we were on our way.
Right before we pulled away onto Dayton's winding two-lane roads, I stopped to thank Charlie and Kelli. And when I did, I told them I'll be back next year. That's a promise.
***
Yama made one hell of a video recap of our trip. Ryan beat me to posting it, but I figure it's worth discussing again. I've been involved in the world of hot rods for more than half my life, but I can say with full confidence that this is the most fun I've ever had with old cars. Full stop.
I would also like to note that for the first time ever, I took a grand total of maybe seven photos. Luckily for me, Yama was on it with all the camera gear. Most of the photos you see here are his. Talk about a great friend!
There are a lot of thank yous in order. Special thanks to Jeff Ediger for letting us tear up your pumpkin patch with our cars. I'm calling for a rematch with your roadster next year, so consider yourself warned.
Thank you to Charlie and Kelli at North Palm Speed for dreaming up such an amazing event, and a big thanks to Yama for coming along. Oh, and thank you Lindsey for the racing pointers and for letting Stella ride shotgun while cruising Laurelhurst—and beyond.
Last, but certainly not least, thank you everyone who has helped me build this car. Without my H.A.M.B. friends I would be oh-so-lost, and I can say with pride that this is a genuine H.A.M.B.-powered machine. Anyways, that's all for now. Get ready for more hot rod happenings in the coming year.
—Joey Ukrop
***
A Postcard from Portland!
23

Comments on the H.A.M.B.