Still The Same OG…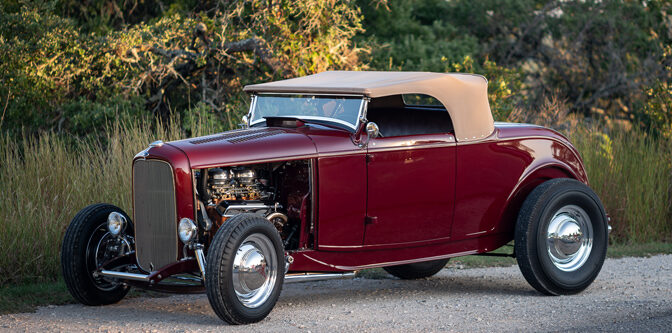 Lowlight, golden-hour photoshoots are all about timing and paying attention to the details. The thing is though, you have to be good enough at those things to do be able to perform them without much thinking because your brain needs to be working on the car you are shooting.
What features make the car? What parts need to be isolated? What angles tell the story? Etc…
Most photoshoots that I've screwed up happened because I'm not quite square on the details as of yet and I didn't know the car before the shoot as well as I should have. Given that I haven't done a formal photoshoot in over two years, I thought my first should be of a car that I know reasonably well – Keith Tardel's simple little '32 roadster.
Keith's '32 started life with John Marchman in Houston, TX. He built the car for Bill and Brad Lindig a number of years ago. But after Bill passed away, Brad decided to liquidate part of their collection and generously offered the car to Keith at a steep discount. The only stipulation was that he wanted to keep the 18″ magnesium wheels that were on the car as well as the Tardel built flathead that powered it.
Wanting to get the car back on the road quickly and affordably, Keith stuffed a 327 between the frame rails, added the 16″ chrome wheels, and then chopped it a couple of inches. It all happened pretty fast. In fact, it couldn't have been much more than a month later that I would regularly see Keith blasting down 290 on his way to the shop or inline at the school drop off with a kid in a tow… Point being, this car gets driven – ALOT.
Anyway, I forced Keith and his roadster to be my first subject and headed out to his shop late last week sometime around 5pm. We then spent the next hour looking for a suitable location… And once we found that, scrambled to get the car there in time for golden hour. I was a bit of a wreck on location as I realized that I've forgotten far more than I had imagined.
Usually on a shoot like this, I'll take somewhere between 50 and 60 shots. This time, I took 211 because after just about every trigger of the shutter I'd realize that I messed something up or forgot a setting or… By the time the sun went down, I was just starting to ride that bike again. But by then, the light was gone. I had no idea if I had even one usable shot. It was humbling as hell.
I waited two days before I processed the photos. I just couldn't stomach the possibilities of what I might find. But once I did, it wasn't all that bad. I was definitely late on the light, but the camera saved me and I was able to get useable shots without too much processing. I also missed some details, but nothing that an epic sunset and a pretty damned perfect '32 roadster couldn't make up for.
In the end, I'm still the same OG… and I'm still messing up as much as I'm achieving. I'll take it fellas… But if anyone in Austin needs their car shot, holler at me! I need the practice and would love to get back out there sooner rather than later!
40

Comments on the H.A.M.B.