The Frenzel Supercharger Co. Is Back!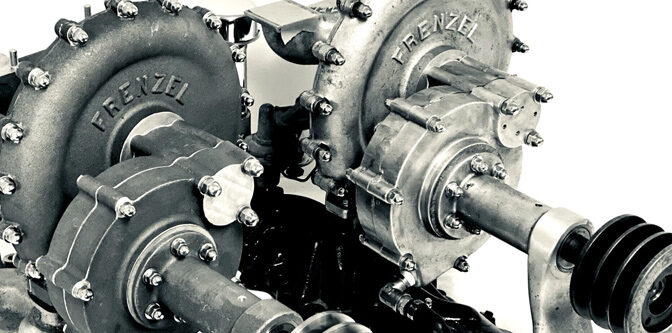 While I was in Hawaii this summer, I got a note from a couple of blokes in Australia about the Frenzel Supercharger Co. Apparently, they were thinking about reproducing the vintage huffer and rebirthing the brand. "Damn," I thought. "That would make a pretty cool feature article."
And then, I got busy and forgot about it… It wasn't until this morning that it finally re-entered my brain and now here I am. I'll let Simon Watts tell the story:
It all began with an impossibly rare find. A NOS Frenzel Supercharger that had spent it's life traveling the globe going from one hotrodder's covented parts collection to another.
It was absolutely no doubt due to its unmolested condition that it survived this long without ever being run on a motor. Its extreme rarity also played a part. After all most people have never heard of the thing let alone seen one in the flesh. This blower is so rare in fact that people can't even agree on the first name of the guy who created it. Some call him Dick, some call him Richard, some call him John, we just call him a genius! In today's world of constant self promotion it's refreshing to discover a man who just got on with things and let results speak for themselves. So little is known of the man himself that all we can relate are his accomplishments.
In California he was recognized by the Rosetta Timing Association for his achievements with the blower on a bone stock 21 stud flathead. With 6psi of boost at 4200 rpm, top speed immediately jumped from 84.5 mph to 100.04 mph. With no other modifications made to the motor it was an excellent demonstration of the supercharger's potential.
As if that wasn't enough, he also created an OHV conversion for the Flathead & Lincoln motors of the day. These went on to win the famous Pikes Peak hillclimb multiple times. Successes that landed him in the Pikes Peak Hall of Fame. Which is no small feat. Especially considering he worked full time as a Design Engineer and all this was done as a labour of love in his spare time. An approach we completely relate to.
The moment we saw the Frenzel, an idea was born. Rather than risk destroying its mint condition why not use this unmolested original to make patterns and reproduce the Frenzel Supercharger. After all there's nothing tugs at a hotrodder's heart strings more than seeing incredible parts sitting on a shelf and not being able to run them. It's pure torture.
So a plan was hatched and the blower made the last leg of its 70 year trip around the world arriving in Australia from Sweden and a couple of hotrodders had another project on their hands.
From this point on the blower was methodically dissected, studied, measured, researched to the point where the recreation could finally take place. The right people with the right skills were hunted down and using only the best methods and materials we've lovingly created an exact replica of the Frenzel Supercharger that's ready to blow the doors off your jealous friends. Sand cast from wooden patterns just like the original would have been we're sure you will appreciate the look and feel of the 40's we've recreated. Only there's no worrying about stripped threads or cracked cases. Pure heaven.
Period correct wasn't enough, we wanted perfection.
Labour of love doesn't do the new Frenzel Supercharger justice. Labour of obsession more like. Period correct wasn't enough, we wanted perfection. We've sweated every detail. After all we know what hotrodders are like. The subtle curve of a casting, the crease line of a forging, all telltale signs that something is correct. You can't fool anyone with the precise angles and crispness of CAD. Time-old traditional techniques lead to the timeless feel we crave.
At the end of the day, We're two blokes at the ass end of the world who got a bee in their bonnet and wouldn't let it go. In other words, typical hotrodders. Always on the hunt for that elusive part and that rare nugget of extra performance. That's why we latched onto the idea of bringing the Frenzel Supercharger back to life. Over 4 years in the making, years worth of legal rubbish to land the rights to the Frenzel name all over the world…….
We love nothing more than a project. We're proud of what we've created with the new Frenzel Supercharger and we hope you'll love it as much as we do.
Tim & Paul and the Barons, Brisbane – QLD, Australia.
***
Pretty rad, right? If you are interested, you can get more details here.
49

Comments on the H.A.M.B.