Upsidedown V8-60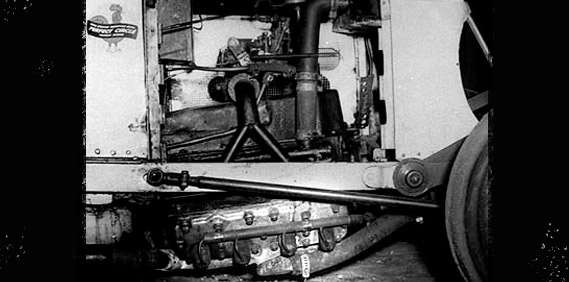 It's 1941. Buddy Shay and Frank VanDersahl had been campaigning a midget car for a couple of years, but their Chrysler 4-banger just wasn't cutting the mustard anymore. The v8-60 cars at their local track in Denver, CO were blowing them off and the Offies? It was almost laughable.
So, Buddy and Frank decided it was time to make a change. They couldn't afford an Offy, so that option was off the table. And unfortunately, the v8-60 wouldn't fit between their narrow frame rails without the intake sitting at cowl level. That wasn't gonna work.
Frank had an idea.
Why not mount the v8-60 upside down in the frame rails? They used the exhaust ports for intake and the intake ports for exhaust, reversed the rotation of the motor, used induction from some sort of aircraft, and just prayed the oiling would work itself out if they used a sump pump. It did.
The completed car was never really competitive with the Offies of the day, but Buddy and Frank did fine against the other v8-60s – most often finishing right in the middle of the pack. Creative thinking paid off for the pair…
Now, this story has been told before. In fact, I remembering writing a side bar on it just a few years ago… But the picture above is the only shot I've ever seen of the Shay-VanDersahl sprint car. I'm wondering – are there anymore out there?
Thanks to autohistory.org for the research.
……………
81

Comments on the H.A.M.B.