The Perks of Finding the Wallflower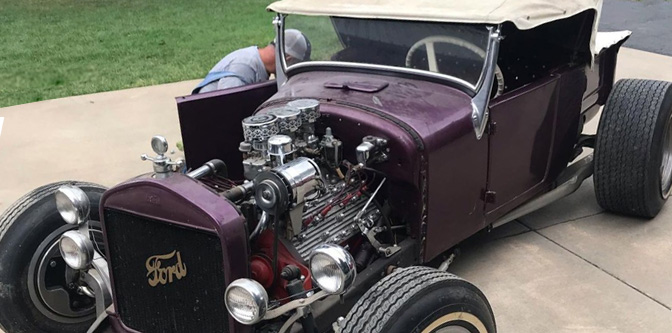 Sometimes you find out about a car that's too good not to share. As I was winding down a full-length feature about my trip to Louisville, my good friend Joey Wagner of Wagtag Rod Shop sent me a link to this freshly exhumed T roadster pickup.
Woah. Stop the presses. The other article will have to wait another week. You need to see this thing. Dubbed "The Wallflower," the story goes that Les Walton built the car during our hobby's golden age. Based on a Model T body and a Model A frame, the roadster features a heavily chopped windshield, abbreviated bed, and a 3×2-fed flathead between the rails. With its deep cherry paint and white Naugahyde top, there's no denying that the car has a whole lot of impact.
Then there are the details, like the dropped and filled front axle, the painted backing plates, the chrome radius rods and—of course—those headlights. Count 'em. Not one. Not two. Not three. But four lights, all canted with care on custom stands. Wild!
At this point, I'd file the Wallflower under "Breaking News." I don't have a whole lot of information about it, but I figured it was just too radical to keep tucked away. I love how it blends traditional hot rod elements with show car flair. All it needs is some earlier style rolling stock and it'll be back in business.
Tug McGraw, the new caretaker, has already gotten it running, so it won't be long before it hits the streets again. How's that for some good news?
—Joey Ukrop
30

Comments on the H.A.M.B.