The Modern Muffler Chevy
Remember that car show in Honolulu that Ray Brock and Jerry Unser helped start? In 1965, Rod and Custom decided to cover that show with a brief writeup and a series of photos. I believe we covered that feature a few years back… and that lead to a phone call over the weekend.
"Aloha Ryan, this is Layne Yoshimura on Oahu. I own the '36 Chevrolet that was featured in the Honolulu International Hot Rod Show in 1965."
That intro was followed by a brief rundown of all the cars Layne has found, built, saved, sold…. and well, let's just say that I need to get over to Oahu and meet Layne sometime soon. His history in hot rodding, given his isolation, is really quite remarkable. But until then, I thought you guys would enjoy some then and now photos of the Lorenzo Chevy.
First, here's the car as Rod And Custom shot it in 1965:
And here's a few shots of Layne pulling it out of storage and getting it home:
Pretty rad, right? The '36 (owned by Fred Lorenzo) ran G-Gas and went as quick as 14 seconds in quarter using 261-inch I6 out of '57 Chevrolet with a 505 Isky cam (HBD!), '59 Chevrolet trans, Hurst shifter, and 4.11 gears. I did a lot of searching for more information, but didn't find much… I did however find this race result in a local newspaper: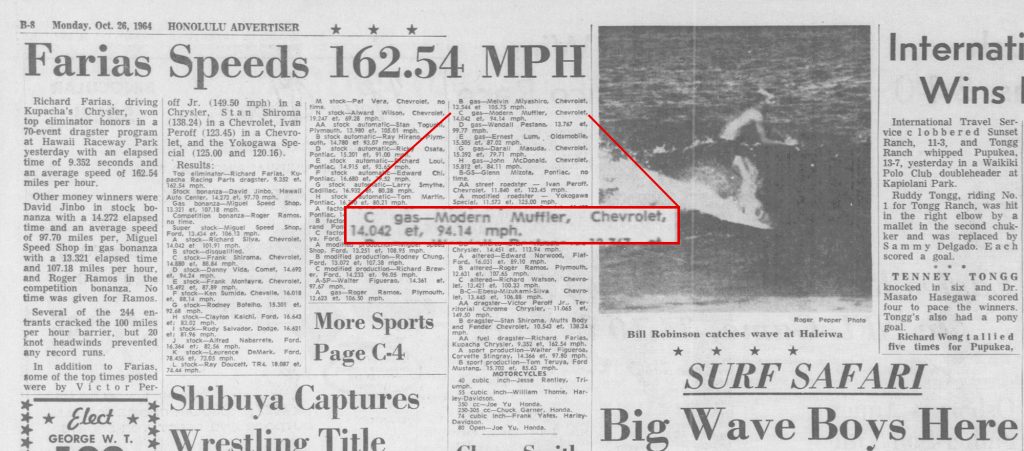 Judging by the Honolulu Advertiser's Racing Reports, Lorenzo raced the car into the 1970's and then the car just sort of disappears – only to be found decades later by Layne. Regardless, this is a bitchin car with fantastic history.
21

Comments on the H.A.M.B.