Book Review: Deuce! 1932 Ford Hot Rods from the Bruce Meyer Collection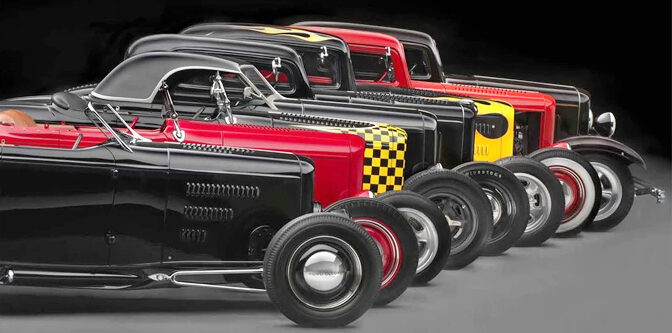 I've written a number of times about Bruce Meyer and his love and preservation of traditional hot rods. His private  collection contains the most desirable and tasteful cars you could imagine, including a Porsche 935, Ferrari 250 SWB, and Corvette C6R… All Le Mans winners! Bruce also has a thing for '32 Ford hot rods, and now there is a book showcasing his collection of them- Eight in all! Starting with a forward by Alex Xydias, and a short introduction by Chip Foose and Ken Gross (who also wrote the book), the '32s are each lovingly featured with their backstory and tons of photos. Here's the eight incredibly special Deuces of Bruce Meyer:
The Bob McGee Roadster
The Doane Spencer Roadster
The Bob Morris Roadster
The Loback-Coonan-Bauder-Meyer Roadster
The Cook-Benish-Meyer Coupe
The Doyle Gammell Coupe
The Prufer Coupe
The Larry Roller Coupe
The Rest of the Collection
And here's some pictures from the Deuce! book, which you can purchase from the Petersen Auto Museum store. Apologies for the poor quality of my photos.
17

Comments on the H.A.M.B.