Antique Mall Model A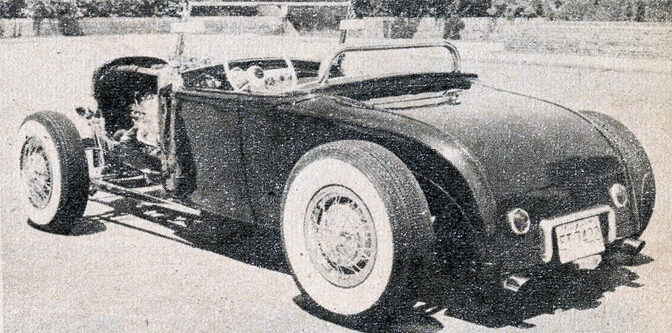 One of my favorite parts about going home is visiting the antique mall where my dad works. Located in Northville, Michigan, the store is jam-packed with vintage treasure from wall to wall. Back in high school, I used to roam the aisles for hours enjoying the sights and smells of a bygone era. Although time is a bit more limited now, there's no denying that there's something oh-so-relaxing about wandering aimlessly through seemingly endless booths of stuff.
During my previous visit, I strolled through the door and found my dad at the counter. I asked him which booths had the best magazine selection these days. He directed me to good ol' 108—a longtime favorite of both of ours.
I have never met the curator of booth 108, I have a feeling that we would get along just fine. They always seem to have an impressive collection of license plates, bottles, crates, books and, of course, magazines. I made a beeline to the booth and started sifting. It wasn't long before I had a little-pages sized Car Craft in hand. One look at the cover was all it took. I knew I had to have it. And for $5? How could I not? On the plane ride back to San Francisco, I finally dove into mid-century magazine bliss.
During the late-'50s, the Car Craft staff tended to place their emphasis on customs over hot rods. In that particular issue, there was only one early Ford featured. Not surprisingly, that's the car we're going to take a closer look at today.
Below you'll find Ed Zilka's '31 Model A. Built in the mid-'50s, the roadster has plenty of Midwest/East Coast flair with its heavy channel and lack of chop. I've recently been researching what it is that gives these cars such distinct flavor, and so much of it ties back to the front axle. These '39/'40 Ford front axles were an easy swap for rodders converting to juice brakes, and the front-mounted transverse spring gave these machines distinctively stubby wheelbases.
You don't see this too often anymore. Is that a good thing? I'll let you be the judge. Regardless of your stance on Zilka's car's stance, it's clear that the A is a total time capsule. Oh, and best of all? It's from Michigan—not far from where I picked up the magazine. Small world.
—Joey Ukrop
 Photos by Dale Finley, Car Craft, February 1957
13

Comments on the H.A.M.B.