Ace Auto Supply Shop Truck
Last week, I grabbed my Hot Rods of the 1950's book to scan some photos of Andy Southard's RPU for a post and, by chance, flipped to the page that featured one of my favorite cars in the whole book – the Ace Auto Supply RPU: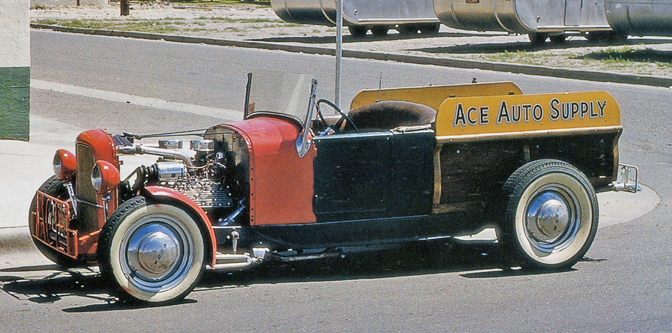 I featured the little hot rod back in 2018. You can read that here, but the Clift's Note version is this:
Ace Auto Supply was started in 1943 by Harold Berg of Albuquerque, NM. After the war, Harold's son Joe got involved with the business and started stocking hot rod parts. This lured "Pop" Unser in as a customer and Ace became the Speed Shop of choice for he had his sons – Jerry, Bobby, and Al.
Anyway, that lead me down a shallow rabbit hole capped by a post made by "metalman." Apparently, he was farting around in 1991 and ran into a 1940 Ford Sedan Delivery turned pickup by the boys of Ace Auto Supply. Check it out: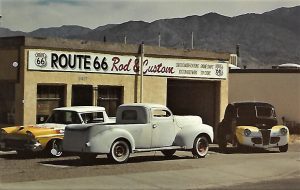 The car/truck was found in a junkyard sometime in the late 1980's, verified to have been owned by Ace Auto Supply, and subsequently parked at Route 66 Rod & Custom – also in Albuquerque, NM.
These leaves me with two questions:
Does anyone have any pictures of this thing after it was built, but before it was taken to the junkyard? I'd love to see what the busy boys of Ace did originally.
 Where the hell is this thing now? You gotta think someone at least put some effort into saving it, don't you?
I feel like there is a whole hell of a lot more to learn about Ace Auto Supply. These boys deserve a look see… and intend to give them one.
***
Also, it just occurred to me… If you are new to traditional hot rods and customs and are looking to start a library, you would be hard pressed to find a better start than Andy Southard's books. In fact, I think you are 100% obligated to own these two:
10

Comments on the H.A.M.B.