Details of the Sonzogni Merc…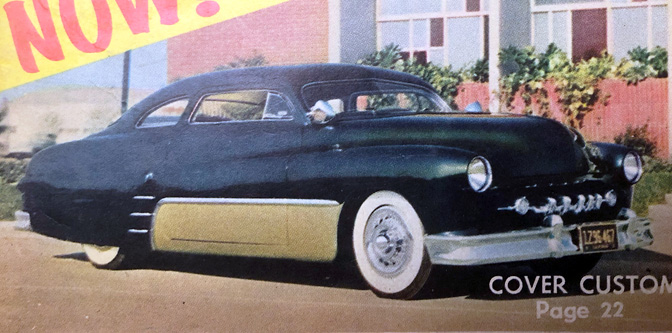 If you're familiar with your Barris Kustoms, you most certainly know the Frank Sonzogi 1950 Mercury coupe. Frank was known as the Lynwood police officer with a custom, but he actually worked part-time for the Barris brothers, first working on the Hirohata Merc, which then inspired building his car at the shop over the course of two years. Frank's work is outstanding, and he really could have been a very successful full time customizer if the law enforcement gig didn't pan out. What I really like about this April 1955 Rod & Custom article on the Sonzogni Merc are the great detail shots by Spencer 'Spence' Murray. The fact that the magazine lavished a 7 page article in such a tiny magazine speaks volumes on the quality and impact of this car. For instance, I never noticed the Ford dash knobs used to decorate the taillights, the hidden casters to protect the rear bumper from dragging, or how exquisite the Gaylord Kustom Shop interior was executed. I don't need to babble on… Just read and look below!
21

Comments on the H.A.M.B.