T.V. Top Treasures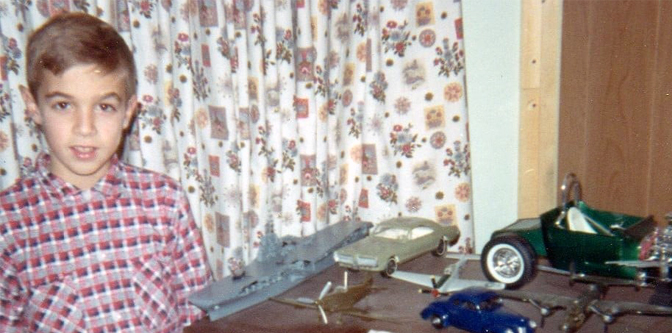 The majority of nine year olds don't have cars. They don't have jobs, tools, garages or large sums of money to pour into machines manufactured long before they were born. One thing they do have, however, is heart. And imagination. Even though they may not be able to make things happen on a big scale just yet, they're already planning their future projects. I know I was. Just like hundreds of thousands of kids around the world, I was doing everything I could to bring my dreams to life with some tabletop hot rodding.
By this point, regular readers are well aware of my long-running interest in model cars. I haven't finished one in years, but they're always on my mind. Last week, I stumbled upon a snapshot that seemed oh-so-familiar. The person who posted it had no idea about its origin, but they thought it was too good not to share. I'm glad they did.
Although I cannot identify the kid on this particular Kodachrome slide, my eye was immediately drawn to his model car collection. Amidst the sea of planes and ships we have three cars—each important in their own way. Up front, there's the blue 1940 Ford. Judging by the rest of the scene, it's the AMT 3 in 1 kit, complete with a nice rake, blackwalls and chrome wheelcovers. No frills on this build. Not even decals!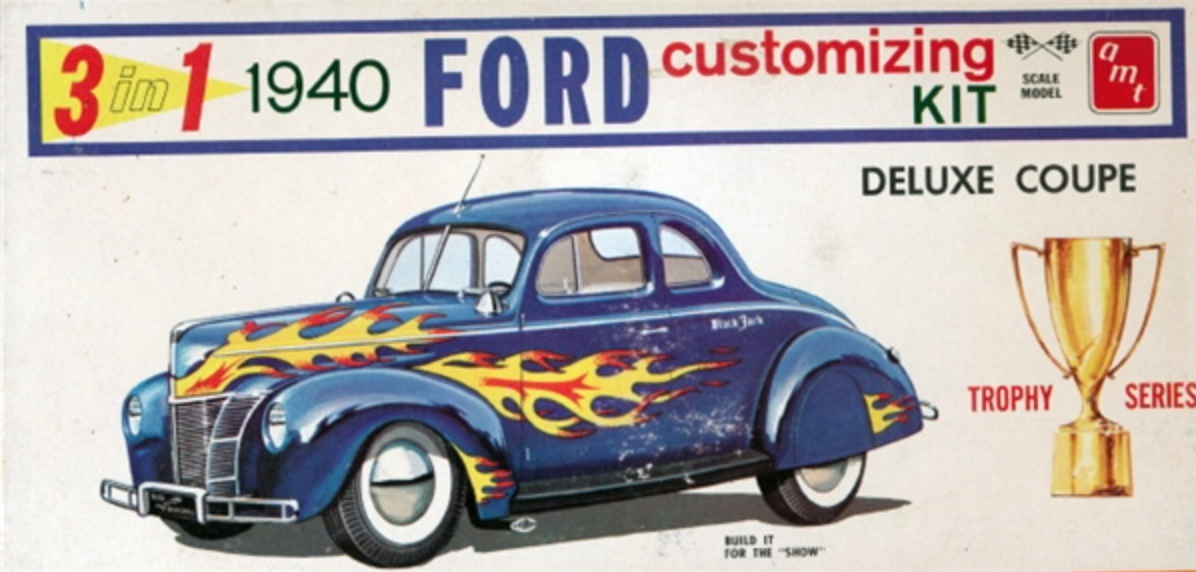 In the back, there's the 1967 Mercury Cougar. Both Revell and AMT offered variations on the Cougar in 1967/1968, but this isn't either of them. The size is the giveaway. See how it's so much bigger than the '40? It's a dealer promo kit, which measures just over 10 inches long. As far as I know, there was no assembly required. Nonetheless, it earned a place of pride on the dusty T.V. top. It also gives us an approximate timeframe for the photo. Let's say 1968?
Last, but not least, there's the big one—literally. Yes! The Monogram "Big Drag," with its blown smallblock Chevy, mags, slicks, chrome roll bar, tuck-n-roll upholstery—everything a kid could want and more. This young modeler treated his 1/8th scale Altered to a heavy Metalflake green paintjob and paired it with a white interior. This hits close to home for me, because I painted my "Big Deuce" kit exactly the same way more than half a century later.
As I was preparing this post, I started thinking that there's a good chance that you may know this week's subject. Maybe it's your dad, your uncle or your neighbor—or maybe it's you. Whoever it may have been, I'd like to think that they grew up to become a hot rodder. That's my story and I'm sticking to it.
—Joey Ukrop
 Photo from Kris Vierra, posted to Mid-Century in Color – Amateur photographic slides and prints 193-1962 (and beyond). Artwork from the fine folks at Model Roundup.
50

Comments on the H.A.M.B.