Bring Back the 60s Wacky Show Rodz?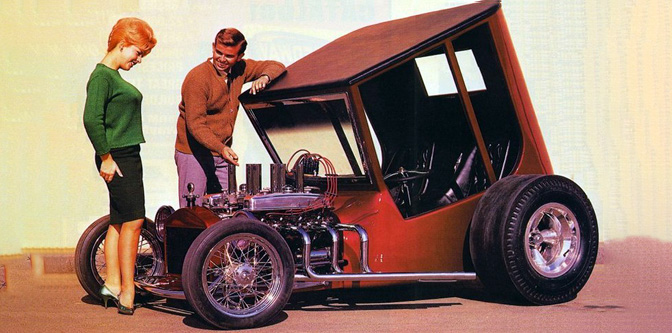 By the early 1960s, radically customized street cars had reached their peak. There was only so many ways you chop, section and quad-headlamp a '51 Merc., and the majority of new cars coming out of Detroit didn't need anything extremely wild to look pretty darn good right out of the showroom. Sure, grille swaps, candy paint and Lancer wheel covers made a nice 'new-car-mild-custom', but for indoor car show culture, the 60s brought the rise of the wild show rods. Ed Roth had kicked it off with the appropriately-named 'Outlaw' in 1959, but things got really weird with 'Orbitron', 'Beatnik Bandit' and the 'Druid Princess', among his other creations. From Barris you had 'Drag-U-La', Darryl Starbird made the Predicta, Ray Fahrner created The Boothill Express, there was Dave Stuckey's 'Lil Coffin', and of course by the late 60s there was iconic Tom Daniel's Red Baron. All of these creations sent car show attendance to new levels and the creations went onto become plastic model kits, often inspiring many little customizers dreams. So I ask you, where are the crazy creations now? Not just the 60s versions restored or cloned, but all-new creations. Who makes the nonsensical, laugh out loud, bonkers show rods these days? By the time we kill off this crazy pandemic and get back to indoor car shows, it just might be time to bring back the kind of customs built to just make you smile…
62

Comments on the H.A.M.B.