Ford Town USA
On September 24, 1960, Lee Iacocca saw his dream become a reality. That was the day that Flora, Illinois became "Ford Town USA." It was a huge promotional stunt that Lee organized for Ford. Essentially, all 1600 citizens of Flora with a registered vehicle was given a new for 1961 Ford Falcon, Fairlane, Thunderbird, or truck to test drive for one week. All the passenger cars were painted white while the trucks were dressed in blue. For that one week, Flora was surely a sight to behold.
Your best friend? He had a brand new Ford for a week. That schmuck that stole your lunch money every day in grade school? Driving a new Ford. Your moms? Loving a new Fairlane. The local Chevrolet dealer? Sporting a white Ford. You? You don't mind the new Falcon so much.
It went down like a country style Lemans start. Every eligible citizen was given a number. The 1600 Fords were numbered as well and parked in a field just outside of town. At 10:23 AM, the citizens of Flora were let loose and sprint across the field to find their new loaner.
You just gotta know that shenanigans ensued. I mean if Ford gave me a new car for a week it damn sure wouldn't be "near new" when they got it back and I'm a pretty decent guy. What would a real hoodlum do?
I've searched and searched for dark sided stories, arrests, and general law shifting that went on during Ford week, but found nothing. In fact, all that seems to remain from the week of wonder are these three photos and some PR sprinkled press clips. We are just left to wonder…
In an ironic twist, Flora no longer has a Ford dealership.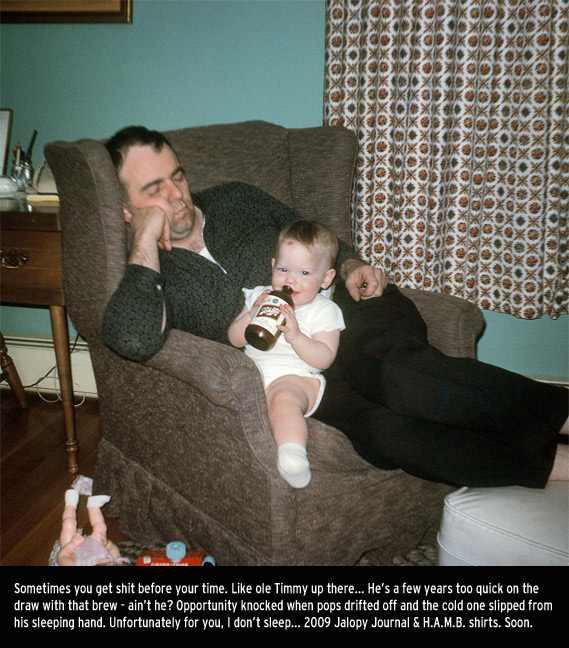 51

Comments on the H.A.M.B.