Mystery More-Door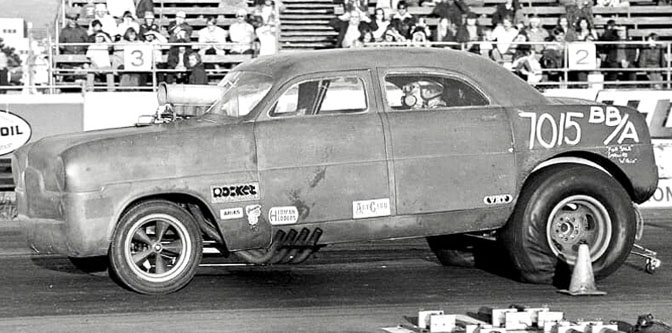 Back in June, I stumbled upon the shot you see here somewhere in the depths of the internet. Right off the bat, I knew that it was a photo worth saving. Why? Because there's so much that I didn't know.
Let's start with the basics. The car in question is a full-bodied Altered not running nitro. The nose is fiberglass (maybe the entire body is?), and it appears as if the top has been chopped. But what really drew me in were the proportions. This little machine has all the attitude of a Funny Car, and the fact that it's a 1950s four-door makes it all-the-more memorable. Spindle-mount Americans, supercharger, four-port Hilborn, scoop partially wedged beneath the windshield in a Plexiglas doghouse, Halibrand mags, wrinkle wall slicks, wheelie bars, parachute and—best of all—a driver in full Fueler attire sitting wayyyy out back. One thing's for sure: whoever built this car meant business.
So who did? Good question. With its gray primer, unpolished magnesium, and simple shoe polish lettering, I'm guessing that this was an early outing for this BB/A. Regardless of that fact, it was already for sale ("Inquire within," it says on the rear quarters). Looking around the rest of the scene, we can tell that this shot was taken at Orange County International Raceway in the early 1970s.
If I were to take a wild guess, I would wager that this machine was built out of spare pieces from a retired Funny Car or Fuel Altered. Or it was a small weekend warrior car built on a larger-than-usual budget. It looks like it has a tube chassis, but the dimensions aren't right for a Pinto/Vega or some sort of Bantam or Model T. Even though there wasn't big money in the Altered ranks, it was definitely more economical than running anything on Fuel.
Again, it's all speculation. To help prepare for this post, I searched the American Car Spotter's Guide 1940-1965 by Tad Burness. Unfortunately, I wasn't able to confirm what type of car this is. The body is very shoebox Ford-esque, and the nose seems almost like a mini Packard Super 8. It's not a Frazer, Kaiser or Willys. I'm thinking it may not be an American make after all. Do you know? If so, let's hear it!
—Joey Ukrop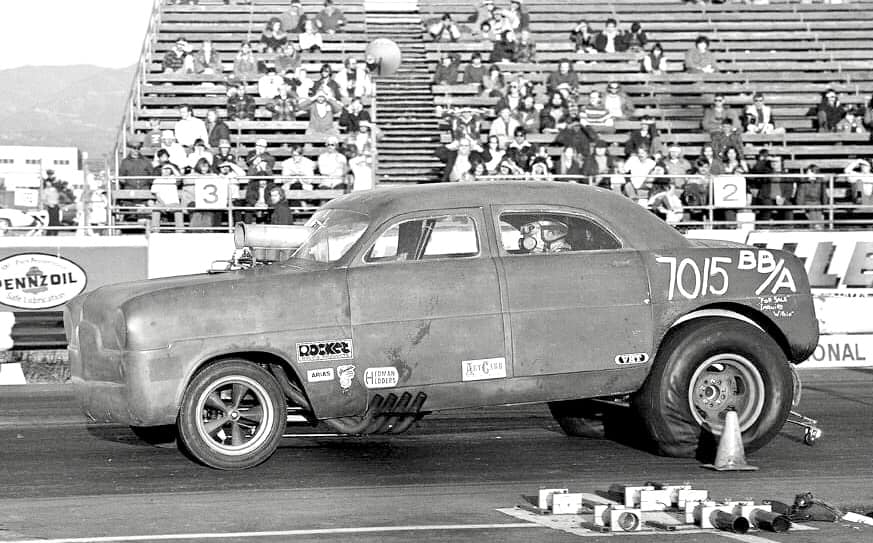 30

Comments on the H.A.M.B.