Marvelous Man Doors & the Mystery Drag Bike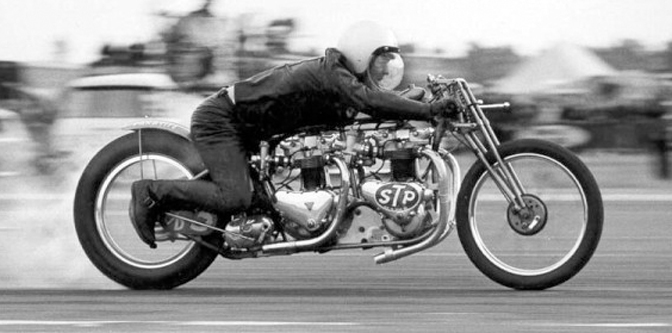 It was already dark by the time I had reached the south side of Portland, Oregon. I had spent the day on the road, driving north from San Francisco to the heart of the Pacific Northwest. With my foot on the gas and playlist on point, I watched big cities and small towns come and go through my truck's dirty windshield. Crossing the Willamette River, it seemed as if Portland could have gone on forever with its bright lights, glowing bridges and neighborhoods sprouting off in every direction. The air was crisp. I could feel goosebumps staring to form. "This is it," I said. "Let's go!"
Ever since moving to the West Coast, I've had a longstanding fascination with the Rose City. Last weekend, I found myself up that way working on a Rodder's Journal assignment. My plan was a straightforward one: spend Friday night in the city and then drive south to cover some dirt drag racing in nearby Dayton the following morning. Luckily for me, my friends David and Jenny Bright let me use their wonderful craftsman as my home base for the next few days.
Prior to my arrival, David had given me very clear instructions about picking up my key near the garage's man door. He and Jenny were at the bar down the street, and I was supposed to quickly drop off my gear and walk over before last call. After searching and searching, I wasn't able to find the key. A better bullshitter would blame it on fatigue or weather conditions, but I didn't have it in me. I called David. "Uh, what do you mean by man door?" I asked. "You know, like not the garage door," he said. "Like a door for a person. Maybe a person-door would be a better name?" We laughed and it became the joke of the weekend.
Moments later, the three of us (and their sweet dog, Lola) sat at a picnic table outside the local watering hole, enjoying Olympia tallboys and catching up. And when the bar closed, we took the party back to their house. The conversation soon turned to projects, and David told me that he finally got the basis for his drag bike. Not just any drag bike, either. This one was a two-engined monster from the golden age of drag racing.
It's important to note here that David is a machinist who specializes in vintage British motorcycles. He has a deep appreciation for all things mechanical, and he's also one of the nicest people you'll ever meet. From 600-mile winter road trips on vintage Vespas to crazy Craigslist escapades involving tweakers and woodchippers, he's told me some wild stories through the years. That being said, the tale of this bike's past is a little bit hazy.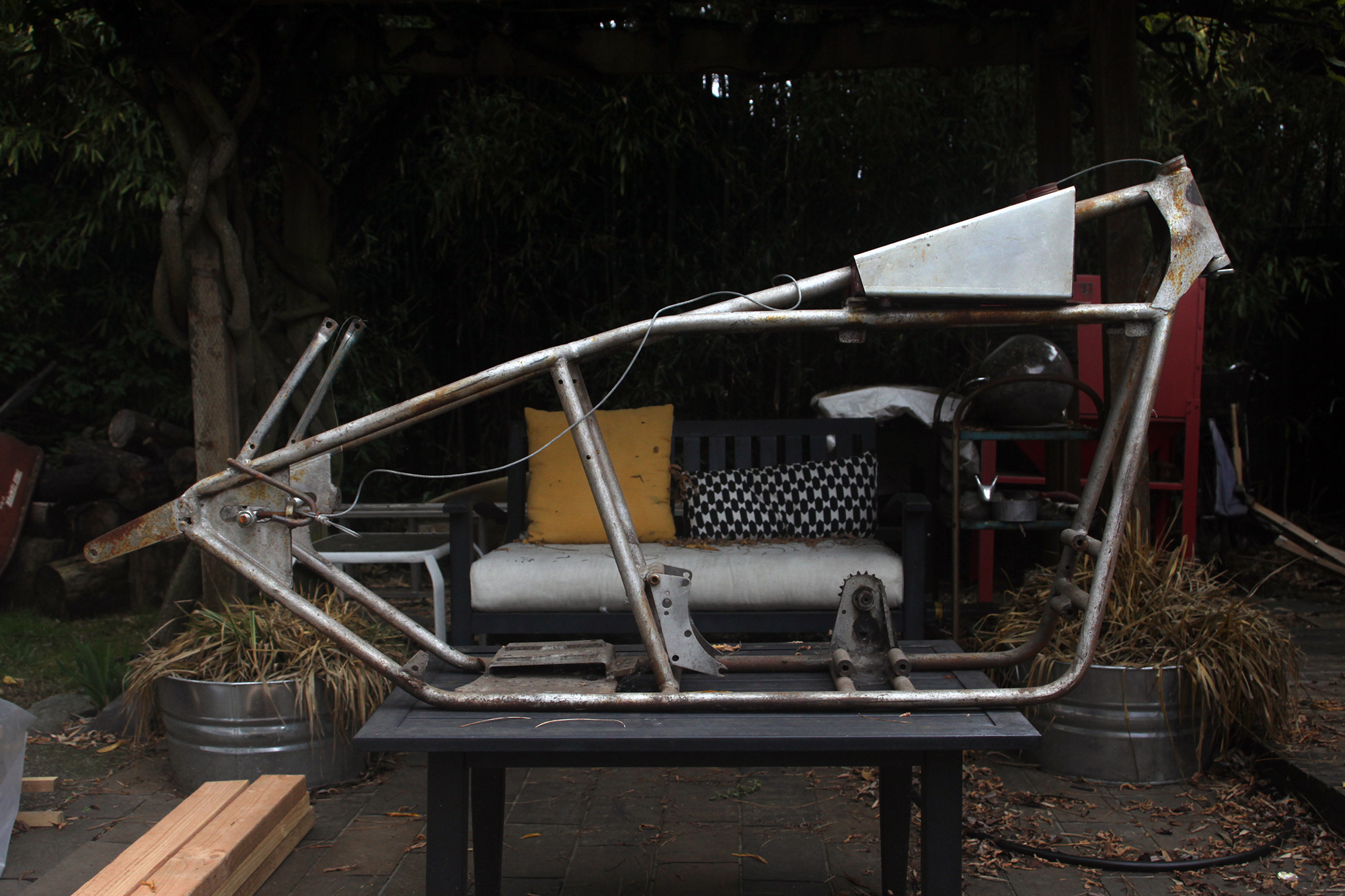 Here's what we know. David got the pieces from his friend Kenneth Wright, who had a shop in Portland for years called Motogalore. For quite some time, the frame hung from the rafters. Kenneth told David that it was built and possibly campaigned by a local racer with the last name McCracken. When Kenny moved out to the country, David adopted the project. Now, he plans to bring it back to life.
***
It's no secret that this isn't a motorcycle site. But don't sweat—there's a hot rod connection. After hearing about the bike, David and I wandered out to the garage. He then unearthed what looked like a somewhat streamlined lunchbox. "It's completely homemade," he told me. "It's like they used paint jar tops or maybe even rubber cement lids for the caps. All they're missing are the little brushes."
"Oh man!" I said, my mind already racing. On the top of the aluminum tank were two waterslide decals from the early 1960s. One was the old National Hot Rod Association logo with the Dick Flint roadster. The other? Reath Automotive. Seeing that Reath was based out of Long Beach, I wonder if there was a Southern California connection? Maybe? Maybe not? Either way, it's a neat piece.
***
The following morning, I hatched a plan. "I'll ask the folks on the H.A.M.B.," I said. "They know their drag racing stuff on two wheels and four." And so, that's exactly what I'm doing here. Does any of this look familiar? We've dug up plenty of history before, and it would be fun to see what we can find. As for me? I'm just glad that I can now identify a man door from a mile away.
—Joey Ukrop
Note: the bike in the lead image is the well-known "Parasite" out of New Jersey. Photo of the B/SR from the Ferry family archives. 
25

Comments on the H.A.M.B.