The Menges Twins 1937 Ford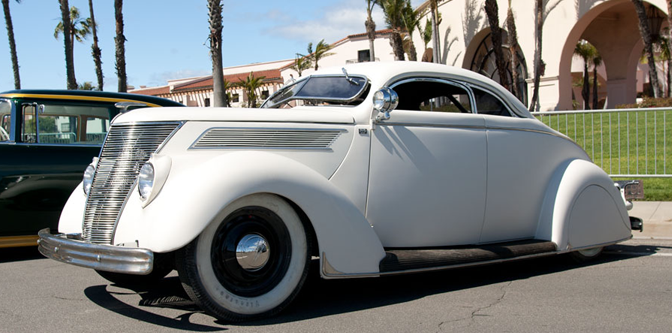 One of the weird side-effects of this pandemic is the lack of dissemination in the hot rod and custom world. Back in 2019, it was just a matter of days from the time a car was buttoned up until pictures of it from every angle were posted all over the internet. With the loss of shows and most general social gatherings, that hyper speed of propagation is lost as well.
A good example of that is The Menges Twins '37 Ford. As far as I know, this car was finished in 2019, made an appearance at one of the Customs By The Sea car shows and then… Well, it was silenced by a god forsaken virus.
As someone with a passion for '37 to 38 Fords, I can distinctly remember seeing a single shot of the car from the show and being excited to see more. Then modern civility took over, I sort of forgot about it, and life moved on. This morning, I was going through my "feature to do list" and found that single shot again.
I don't know the Menges Twins at all. I remember their name being placed on a bitchin' chopped Dodge (I think?), but past that – they are a mystery to me. A quick search shows they have a shop in Santa Rosa, CA… The rest will have to be discovered in time.
What I can tell you is that this '37 Ford is brilliant in execution and that I would really like to see more of it. You can see the only shots I know of here at Kustomrama.
27

Comments on the H.A.M.B.