Street Altered!
Slice and dice! That was the name of the game here. Kick things off with a 15-ish-year-old Chevrolet and get cutting. "Build a custom!" "Build a lowrider!" No way—not today. Instead, the mastermind here decided that he was going to make the most of what he had and take things in a completely different direction.
Throughout the past half-century, we've seen plenty of variations on the drag car theme, including Modified Production, Gassers, street freaks and everything in between. From what I have gathered, today's example is especially rare. It's an Altered for the street and, best of all, it appears to be well-constructed.
In the mid-'60s, racers were jacking up front ends to aid weight transfer. In the stock classes, teams started making adjustments to their wheelbases to gain a competitive advantage. Subtle at first, things soon got wild. Add blowers, injectors and exotic fuels into the mix and you have yourself a show. That's a story for another day.
But this street machine comes a few years earlier. The Chevy sits high—but not in the clouds—and the rear wheels have been pushed forward. From the chrome slots and the fenderwell headers to the roll bar and expertly cut rear wheelwells, it's clear that this builder had a clear vision in mind. The Plymouth Max Wedge hood scoop, narrow whitewalls and sprung wheelie bars add extra mid-'60s flair.
Even though it wasn't slathered in crazy paint or lettered up like a newspaper, this car had plenty of impact. This is the only photo of it that I've ever seen, and I unfortunately can't make out the name on the front fender. It says "Mr. _________," and your guess is as good as mine. One thing's for sure, someone put a lot of time and effort into this Chevy. Maybe you recognize it? Or maybe it was yours? Either way, this one deserves another look.
—Joey Ukrop
 Photo from the H.A.M.B.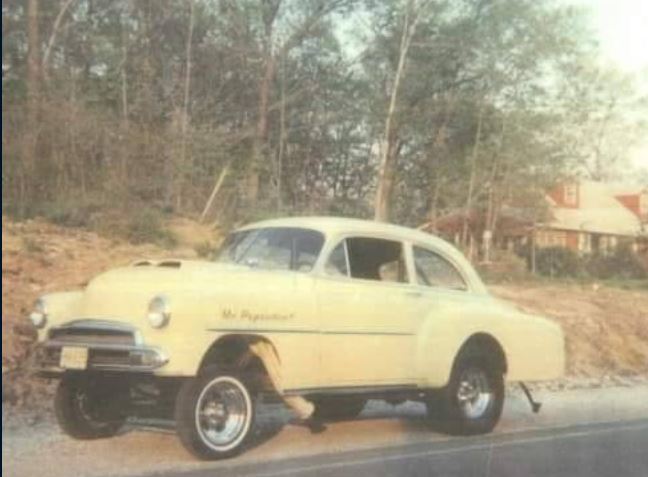 22

Comments on the H.A.M.B.